**The posts I write might contain affiliate links or be written in collaboration with businesses or brands. Please see my disclosure policy for more information.**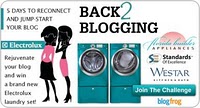 OK, I know I am a day-late-and-a-dollar-short on this, BUT I want to hop on board with the SITS Girls Back to Blogging Event!
Summer is over, the ruggers are back in school, and it's time to turn our attention back to our blogging routine!  So here.We.GO!
Monday, September 13: Re-upload the first post you ever wrote on your blog. If interested, re-write that post, showing us a before and after look at the piece.
Ok, this is just gonna be damn scary. A probably pretty amusing too. It will be kinda like looking back at pictures from high school. Moderately embarrassing, marginally rough, and uber nerdy: (This is from late 2007)
Hi everyone! Well, I've gone and done it! I've plunged headfirst into the world of on-line blogging (something I never thought I'd do!). Thanks to Lisa for encouraging me, love ya girl! So now as I sit at my computer all set up and ready to go, all the witty stories and articles ideas I had in my head have gone vamoose! Brain fart I guess. Anyone who reads my profile can see I've spent the last five years up to my eyeballs in diapers, bottle, poop, fevers and cryin. I love my kids more than anything in life. but my creative side that had been dormant for years wants OUT! So here I is! Ready to spread my wisdom in the form of weird humor!
As parents (especially Mommy's) we tend to revolve our whole worlds around our kids in those early years and lose ourselves. Not that that's bad. Your kids SHOULD be the center of the your universe, not living on the outskirts if it. But that's where the Mommy MoleHole comment came from. We go "underground" and lose yourselves for awhile only emerge later, blinking at the bright sunlight and thinking "oh that's right! There IS a world out here!". So now I am poised and ready and full of things to share…only it's now 6 a.m and I need to stop and get ready for work. *sigh*. This dang job is ruining my groove!
Tuesday, September 14: Re-upload a post you wish more people had read and explain why it was important to you:
Hmmmmm…that's kind of a toughie. I would have to say it's SO Not Your Normal Herd. Our family is unique. Our life is unique. We are certainly NOT your normal cookie-cutter-family. So NOT your normal herd (that's a quote from the movie Ice Age) Our back story is deep, full of adventure, heartache & sorrow, amazing events, off-the-charts joy, plenty of loss, and lots of struggle. But it makes us who we are. And I wouldn't change a thing!
I can't wait for Wednesday's blog topic!
Never Miss a Poop Story. Subscribe HERE http://feeds.feedburner.com/blogspot/dpfZp