**The posts I write might contain affiliate links or be written in collaboration with businesses or brands. Please see my disclosure policy for more information.**
Halloween is a great time for serving creative and "gross" foods. Kids' parties and adult get-togethers can both benefit from some creepy food. From freaky finger foods to ghoulish drinks, you can serve up a memorable meal! Here are some spooky recipes for Halloween, from classy and fun to ghastly and delicious!

Cheese and Deli Meats
Cheese and deli meats may not be the scariest foods around, but you can cut these flat foods into Halloween-themed shapes, like ghosts, pumpkins and cats. The more orange the cheese, the better! Then layer them on crackers and add details with black olive slices for spooky hors d'oeuvres.
Mummies-in-a-Blanket
Use your favorite pig-in-a-blanket recipe, but wrap a full-sized hot dog with dough rather than the small weenies. Press peppercorns into the top of the dough for eyes. If you don't have a favorite pig-in-a-blanket recipe, it's quite simple. Just use store-bought breadstick dough and wrap one breadstick's worth of dough around each hot dog. Press in the peppercorns and bake at 375 degrees F for 12 minutes. For a gory effect, dollop ketchup on the mummies-in-a-blanket right before serving.
Bloody Glasses
Grab a tube of red cake decorating gel and apply it to the rims and edges of your guests' cups. You can create a bloody look by letting the gel drip down inside the glass. Apply the red gel after the drink is in the glass. You can use this for kids' drinks or adult beverages.
Mini Witches' Brooms
Party guests of all ages will love these! Here is what you'll need to make these witchy treats.
* String Cheese (the American kind works best; it holds up a bit better without crumbling)
* Scallions
* Cream cheese
* Straight pretzels (small kind)
Pull the strings apart into strings stopping 1/2″ from the end. Stick a pretzel stick into the solid end to create a broom handle. Trim stringy ends shorter. Cut the green part of the scallions into ribbons about 4 inches long; place these in a bowl and pour boiling water over them. Steep for 1 minute and remove (this makes the scallion ribbons limp). Wrap scallions around the string cheese stick for the "broom binding" effect.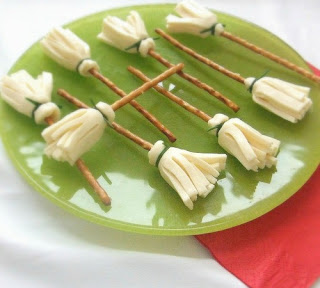 Cheesy Eyeballs
Have you seen those mozzarella balls in the grocery store? Grab some and make them into eyeball snacks. In addition to the mozzarella balls, you'll need sliced pimiento-stuffed green olives and cream cheese. Put a small blob of cream cheese on each mozzarella ball and press on an olive slice. Instant eyeballs! Serve on a tray with crackers and sliced tomatoes. Yum!
What kind of creepy treats are your party favorites?
Never Miss a Poop Story. Subscribe HERE http://feeds.feedburner.com/blogspot/dpfZp