WAHM Tip Thursday-Top Business Ideas for WAHMs on a Shoestring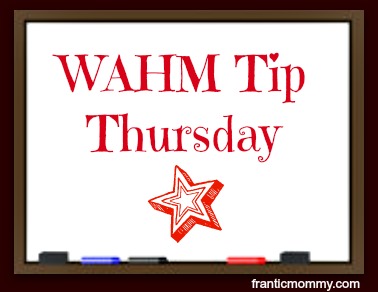 WAHMs, or Work-at-Home Moms, often begin their ventures with very little money to invest. Heck, I started mine with virtually no start-up capital (bootstrappin, baby!) and it worked out just fine. There are specific business ideas that can be started on a shoestring budget. Here are some business ideas for moms who have minimal start-up funds.
First, a Website…(or blog!)
Since you will probably be finding many of your clients online, you will need a website. This is generally considered to be step 1 for any work-at-home venture. It is a means by which you can promote yourself, and a place to refer people who want more information.
The truth of the matter is that prospective clients are going to want to check you out before contacting you. Chances of them picking up the phone or connecting with without doing some snooping first is slim. This way they can visit your website, learn a bit about you, descide if you are a good fit for their needs, and then contact you by email through your site. Thankfully, though, starting a website is not expensive. You can generally purchase a domain for less than $10, or you can start a blog for free and build that as your promotional online presence. If you are going to start a blog, I HIGHLY suggest you start with WordPress.org.
Virtual Assistant
As you all know, I am a virtual assistant (VA). A VA is someone who does administrative or secretarial work remotely. VAs transcribe, translate, prepare mailings, create newsletters or blog posts, manage appointment calendars, do billing, and many other administrative duties. Virtual assistants are not confined to secretarial work, however. Some VAs offer web design, marketing consultation, and even technical support to clients. Since VAs use the internet and telephone, they can garner clients around the world and stay in contact easily using tools like Skype and Google Talk.
Creating a VA business is far from free, but it still can be done without thousands of dollars in start-up.  I would strongly suggest taking some VA courses online from either VAClassroom or VANetworking. Whether you take a course or not, success depends significantly on the hours you are willing to put in. I would also suggest investing in a really good computer or laptop. Since this is the mainstay of your biz, you need to have good equipment. Need more details? Check out the whole series I did called What it Takes to be a Virtual Assistant HERE.
Consulting
Teaching others something you know (and know well) is a low-cost WAHM idea. Consulting can start with your acquaintances and friends – spread the word that you have valuable knowledge and are going into business sharing this knowledge with others.
Some ideas for consultant businesses are in the fields of nutrition, natural lifestyles, green living, small business start-up, and marketing. But in reality, there are so many possibilities in the consulting world that you can get unique and creative with your consulting business. Just make sure you are filling a real need before you venture out to sell your knowledge. Set up your consulting practice like a regular business and spend some time researching other consultants rates and offerings. I've always said there will always be people out there who are willing to pay you for the knowledge & experience you have in your brain.
Childcare
Someone needs to care for children while their parents are working – even working from home! Once you check with your local regulations and laws in this regard, running an in-home daycare (or something less official, such as watching one family's children) can be a lucrative at-home business. I've also always thought there would income potential in offering a "latch-key-kid" service. Care and supervision of school-aged kids between the time they get done with school and their parents get off work.
Writing Web Content
The internet is the place to go for information and if you have any sort of skills on writing, this could be a potential stream of income for you. Businesses, brands, companies and organizations, need to get information out somehow, and writers of web content are often in demand. You can work for a publishing company that provides web content to its clients and write articles on various subjects. Check with on-line job sites like ODesk, Elance, and Guru too for content  writing opportunities.
Freelance Work
Like Web Content, freelance takes writing skills, but it is still another business idea. Freelance can be more along the lines of writing for magazines, newsletters, and even writing training manuals and these projects tend to be bigger and take longer. As a freelancer you could offer marketing advice, design websites, write articles, edit e-books, and a host of other things. Working freelance means you have multiple clients rather than an employer, and you will need to market your business and skills in order to find clients.
Start Your Own Business
Working as a freelancer, Consultant, VA, or web content creator means you are working NOT as an employee, but as an independent contractor. You are responsible for finding clients and promoting your business. Take the time to set up your endeavors as a business, make up business cards, and figure out a billing systems. Getting your processes in place before you get clients on board will save you costly mistakes later on down the road.
Choosing the right marketing strategy (or strategies) is important too. It's not "start my business and they will come…" NOPE. Doesn't work like that. Look into social networking like Facebook, LinkedIn, and Twitter, and use their advertising platforms to get your name out. However, it pays to take it slow – no one wants to be "spammed" all the time about your business. Build relationships in your demographic – join groups, make friends, join discussions, etc. – and then see where you can advertise to your potential customers.
Have a Plan
The old saying "a ship can't leave the harbor without a destination" make be dorky and overused…but it's true.
You need to know what you're doing and have a handle on the tasks that need to be done. As a mom, you will have unexpected interruptions and also unexpected moments when you can snatch a few minutes' work. If you have a grasp on the day's tasks, you can nip in and out of work mode and always know what needs to be accomplished. If you have a spare ten minutes you weren't expecting, and you have to spend that ten minutes organizing and figuring out what needs to be done, you've lost productivity. It may take a while to "find your groove" but you will find it.  Don't give up and have faith.  It IS possible to work from home and have a family balance too.
Like the images on this blog? Great images for your website or blog are waaaayyyyyy easier to create than you think!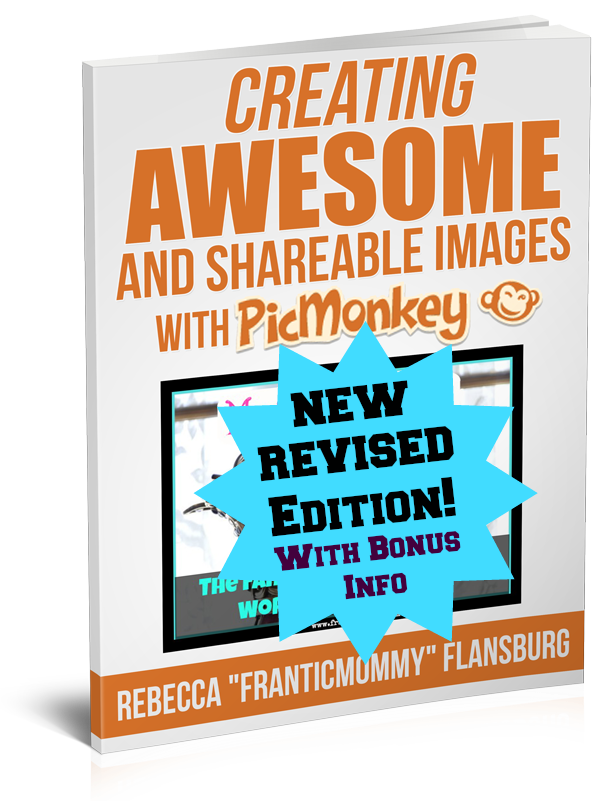 PicMonkey makes creating fun images with text that tell a story and pull the reader in easy to achieve. I've taken this experience and created this 25 pages guide with over a dozen screenshots to help YOU tap into the awesome-ness that is Picmonkey. SO…for less than the price of a pack of gun, you can get Creating Awesome and Shareable Images with PicMonkey; an info-packed ebook full of tips, strategies, options, and best practices for navigating the image creation tool PicMonkey. For less than a BUCK, we can be creating amazing and shareable image for your own blog, website, and social media in no time!
Click HERE to grab your copy of Creating Awesome and Shareable Images with PicMonkey
For only .99!!