**The posts I write might contain affiliate links or be written in collaboration with businesses or brands. Please see my disclosure policy for more information.**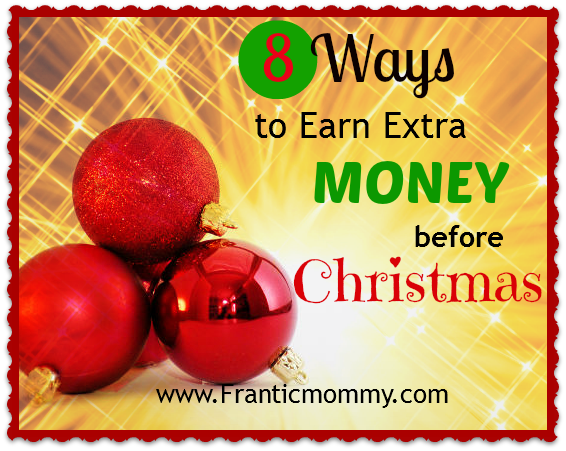 It's the chance to de-clutter, de-junk, and -decrapify your life by moving out the unused and unneeded, scrubbing every thing up, and starting the summer season with a fresh new feeling.
Sometimes, I get overwhelmed by the sheer amount of volume my family of 4 can accumulate. To not get buried under the avalanche of "stuff," I've learned I need to "purge often."  I've heard a good rule-of-thumb is to get rid of anything you haven't used in the last year so I think that's a good baseline on getting started. Clothes get outgrown, tastes in music or books change, and we upgrade furniture and electronics to something new and fresh. Whatever the reason, many homes quickly clutter up and get buried under an avalanche of "stuff."
But what if I told you there were ways you could take your "de-crapifying" efforts and turn them into cash?  You can! Here are 8 options:
Check Out Consignment Stores: One thing I mention in my new FREE ebook Tip and Tricks to a Wildly Successful Garage Sale is that, if you have clothing items that are worth more than $5 gently-used, you would be better off dropping them off at a local consignment store. Granted, it won't be a quick payout like at a garage sale, but often times the item will sell for far more than it would have at a your sale. Check your local listings for consignment shops in your area and turn your unwanted, high quality clothing, into profit.
Craigslist: Open even days in a week and 24 hours in a day, Craigslist can be a great way to attract buyers for bigger ticket items. Listing on Craigslist is free and there's probably a Craigslist for your area as well. I caution people to not give your name and address to just anyone and YES, you will get some spam and creepy-crawlies answering your ad. Check out this article on eHow how to successfully list items on Craigslist.
neverlikeditanyway.com I have never used this site, but I admit I find it intriguing. Get rid of stuff you no longer need at a "breakup" price. What's unique is that members shed the stories behind each item and this site takes a cute approach to selling the things that  you "really never liked anyway."
Yardsellr.com Just like a yard sale but all online. Use your virtual neighborhood (Facebook friends, Twitter followers) to declutter. Connect with buyers based on interests (Barbie dolls!) so you can find online neighbors who want exactly what you have.
Shopify.com Create your own online storefront and sell all the high-quality goods you have. Shopify helps professionalize the process by customizing your store design, accepting credit cards and shipping goods — all with a few clicks of the mouse.
Barter: Ever watched the show Barter Kings? I find it super interesting how people can barter to get what they want. I am completely open to bartering for things I want as long as it's fair for both parties involved. MoneyCrashers.com has a great article on how to barter.
Set up an Etsy Store. If you are blessed with a creative gene, you can create a store on Etsy to sell your creations. Mom Saving Mom has a great article on starting an Etsy Store.
Have a Garage Sale! Having a garage sale is a great way to clear out the clutter and make extra money. I have hosted garage sales at my house for the last 25 years. It's a great family project for us and a way to pay for something fun the whole family can enjoy. One year we bought a BBQ grill, another year we used it for a family trip. It the weather is agreeable enough in your area, set aside some time and dejunk with a garage sale.