**The posts I write might contain affiliate links or be written in collaboration with businesses or brands. Please see my disclosure policy for more information.**
This down economy has done lots of things to lots of people. It's made some jobless, some homeless, but for some it's propelled them from "thinking about starting a business" to actually creating that business. Though an empowering thought, creating your new business and sinking yourself into debt is definitely not the wisest way to start out. Here is my take and tips on creative ways to Bootstrap your Biz.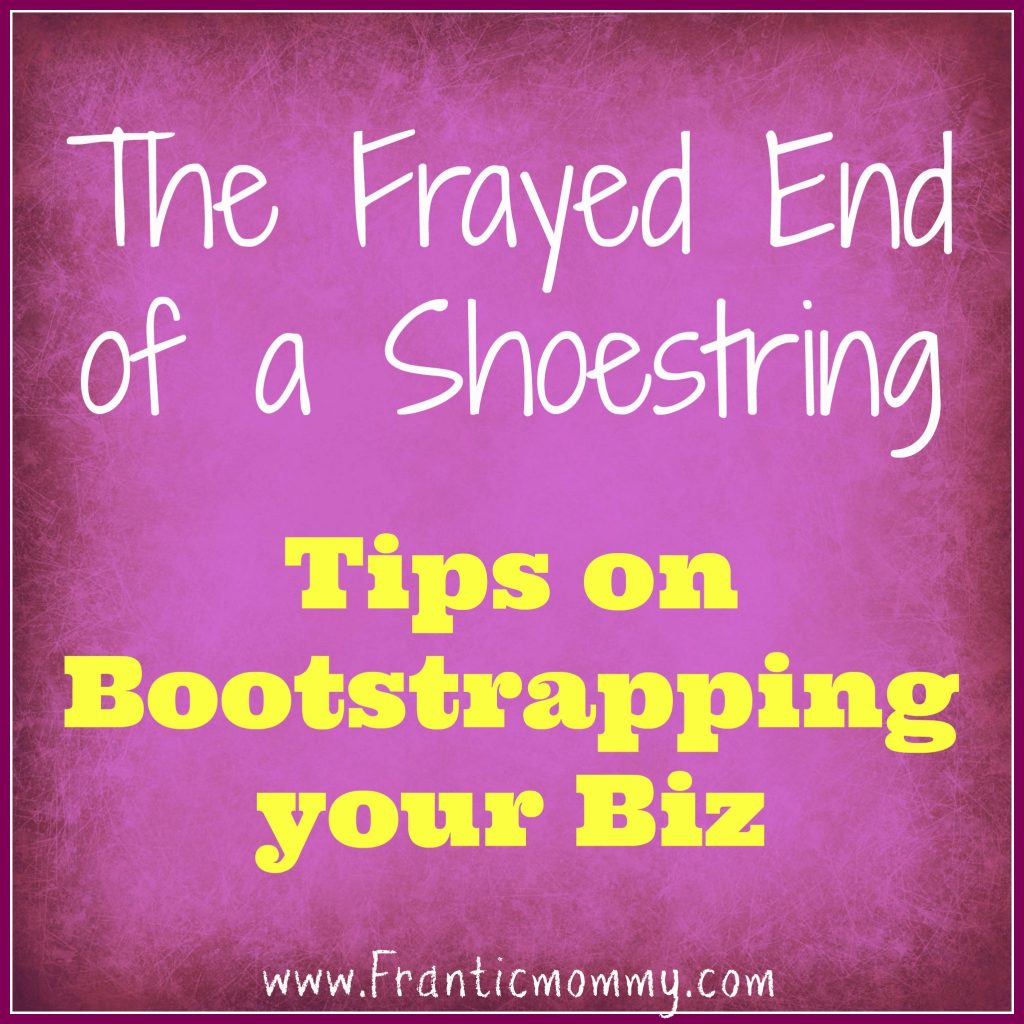 I am one of those people. No, I didn't lose my job, but did I choose to leave it in the middle of a shaky economy. Most people thought I was nuts, but I had reached the 30 year mark of working on my industry and I just felt there was more in this big ol world than what I was experiencing.
Almost three years into my self employment and business ownership status, I honestly can't imagine any other way to live and work. Is it scary sometimes? HELL YEAH. Is it worth it 99.9% of the time. ABSOLUTELY. It has made me more savvy, more money conscious and more aware of how I spend every moment of my work day. It was made me manage work and life a mindful purpose. In other words; it's made me an expert juggler.
Rewind to November of 2010. After pondering, mulling, and plotting for years, I made the leap into self-employment.
"Don't do it!" friends lamented. "The economy sucks! You'll never make it!"
Sure the economy sucks, I reasoned, but if I start now, just think how awesome  my businesses will  be once the economy takes off again. So I jumped in. All the way in. No just "dipping a toe in" for this chick.
One thing I did do is made the leap after months of careful planning. We eliminated expenses, down-sized and sold stuff, found creative ways to live simply. Granted my business of freelance writing and virtual assistant services did not cost that much to start up, but I was bound and determined to NOT have to borrow any money or charge any expenses on the credit card. Basically I was intent on not creating new debt, I was committed to bootstrapping my new business.
I won't lie, the notion of a business loan via Mastercard occurred to me a few times but, unless I am mistaken, those have to be paid back.  And when you have no consistent cash coming in, that's a scary proposition. So I funded everything the only way I knew how…with my own ingenuousness.
Use "Found Money"- It's the time of year where we are often blessed enough to get surprise gifts on money on the form of bonuses, gifts from rellies and even winnings from contests. These "found money" opps are what I squirrel away to use as I need supplies, advertising or marketing expenses.
Sell So Much Stuff, The Kids Think They are Next- There is nothing wrong with downsizing. I read something once that stated the average family has $1500 worth of un-used and sellable items in there home. I think it's more. I took some of my clothes into a consignment boutique and sold them. We had multiple garage sales, sold items on eBay, reduced monthly bills and got creative with gift buying.
Diversify Your Income Efforts: Multiple streams of income is a beautiful thing. Besides client work and freelance sales, I have a trickle of income come in from other places.  Fiverr is one of my favorite "honey holes" and Zazzle has been a source of income as well. I dabble in affiliate sales too, but I have to admit it's hard to find a good one that pays out consistently.
DIY When Ever Possible-I needed business cards. I dug around until I found a sample pack of some Avery business card blanks and printed off my own (they weren't half bad either). There wasn't much there, only a couple dozen. But enough to get me started. Utilizing free products like Google docs and Excel sheets and free version of products like Freshbooks is another way to put together a new business and keep expenses low.
What creative things do you do to keep your business expenses low? Please share!