**The posts I write might contain affiliate links or be written in collaboration with businesses or brands. Please see my disclosure policy for more information.**
By now I am sure most of you know I am a fan of ABC's Shark Tank. To me, the innovation of the entrepreneurs along with the advice and negotiation tactics of the Sharks is educational as heck!
I've also been lucky enough to work with Shark Tank founders to spread the news on the awesomeness of Drop Stop®.
THEN, this came up! Earlier this week I got work from Drop Stop's marketing peeps that inventors Jeffrey Simon and Marc Newburger (The Drop Stop Boys) wanted me to let my readers know about some very exciting news.  As most of you know, Jeffrey and Marc were on the Emmy Award winning TV show Shark Tank back in 2013 and since then their lives have never been the same.
The experience for them was surreal, amazing and absolutely life changing to where they partnered with the Warm Blooded Shark Lori Greiner, who is not only the best partner they could ever have but a true friend and part of the Drop Stop Family.
Shark Tank has now created a spin off TV show called "Beyond The Tank" which follows the entrepreneurs behind the scenes of what it is really like to be them, day in and day out, since being on Shark Tank.  Their episode AIRS ON TUESDAY APRIL 5TH AT 10:00PM ON ABC!!!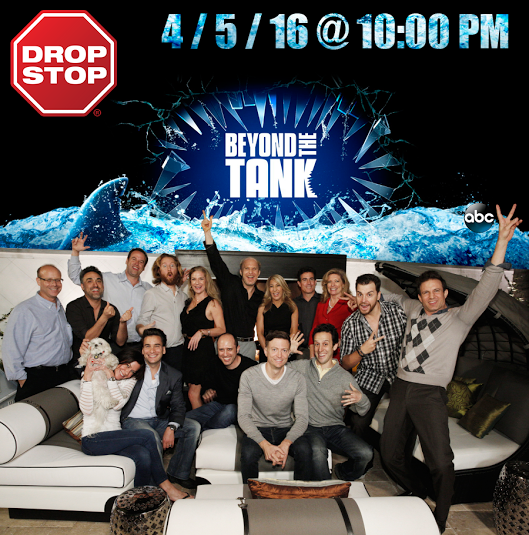 So I hope you can tune in (or DVR) this episode and join them for this yet another exciting moment on the Drop Stop journey ( I know I will).  Jeffrey and Marc said when they first started, they won't stop until every vehicle seat gap is filled with a Drop Stop and this episode is another momentous step into making their mission a reality.
This April it will be National Distracted Driving Awareness month, and as Drop Stop was born to reduce this very thing, it is the perfect time to help raise awareness about Drop Stop, one of the only products that can truly reduce Driver Distraction.
It would be fantastic if you'd be open to sharing this awesome news with your community, and let them know about the airing.  Drop Stop will also be offering FREE SHIPPING on one's entire order for any of your fans who visit the BuyDropStop.com website.  This offer will be valid from now until midnight Sunday 4/10/2016.
**I was not compensated for this review and post. I just think these guys are awesome and I like working with them 🙂