**The posts I write might contain affiliate links or be written in collaboration with businesses or brands. Please see my disclosure policy for more information.**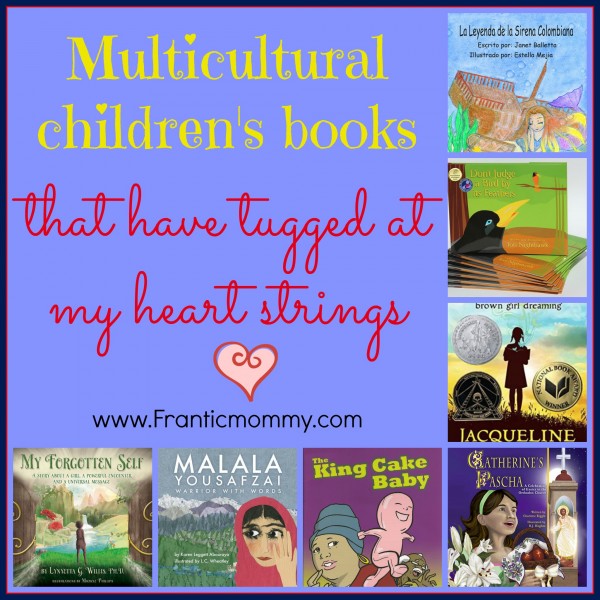 Right now I am happily up to my eyeballs in BOOKS.
Multicultural children's books to be exact and books that will be donated/given away as part of the non-profit Multicultural Children's Book Day online event that is coming January 27th.
My office looks like a library right now and I couldn't be happier. I can't tell you how much fun it is to look at, review and approve dozens of gorgeous books in honor of the event. I have come across some mind-blowingly cool authors and Sponsors thanks to my work over the last 4 years as the event's Project Manager.
Best.Job.Ever
In case you were wondering, a multicultural children's book are:
Books that contain characters of color as well as characters that represent a minority point of view. Children need to "find themselves" within the pages of the books they read.
Books that share ideas, stories and information about cultures, race, religion, language and traditions.
Books that embrace our world and offer children new ways to connect to a diverse and richer world.
The book that have crossed by desk have made me run the gamut of emotions. Some of tese books have not only tugged at my heartstrings, they have made me smile, giggle and even made my eyes leak 🙂
Here are my picks:
Lucy's Amazing Friend (A Story of Autism and Friendship) by Stephanie Workman. I admit it, I cried like a newborn when I read this sweet book. I think it was mainly because my nephew, Nick, is autistic and I know too well of his struggles during his school years. Luckily Nick had his own "Lucy," something I am forever grateful for.
Lucy doesn't understand why the new boy in Miss Reed's class doesn't like her.
"I said hi and he ignored me," she said.
"Lucy, that's Daniel. He has autism," Miss Miller responded.
"What's autism?" asked Lucy.
From that moment on Lucy works to make friends with Daniel in this bright, upbeat book about autism. Once she succeeds, Lucy becomes determined that the other kids in the class learn to accept Daniel as well. With an estimated 1 in 68 children now falling somewhere on the autism spectrum, Lucy's Amazing Friend is just the right book to help children understand that we are all different, and while those differences can be challenging, they also make us each special.
My Forgotten Self by Lynyetta Willis: This wonderful book arrived announced in my PO Box and once I cracked the cover, I knew it was something special. Yes, this is another one that made my eyes leak.
Tiev, is a young girl who decides to dream about her path in life.  Her dreams are vivid and exciting; however, when she shares them with her well-intentioned family they quickly tell her why she cannot be any of the things her heart desires.  Feeling lost, hurt and confused, Tiev, encounters a being, I Am.  Tiev and I Am embark on an amazing journey wherein Tiev learns who she truly is and the gifts inherent in each of her desired paths.   In reading, My Forgotten Self, children and adults alike will experience an opportunity to deepen their spiritual awareness as they follow Tiev, and learn the truth about who we really are as Spiritual Beings. 
Beautifully written and illustrated, I swear this is a "must read" for all moms of daughters. Lynyetta herself is a pretty amazing lady. Read more about her here.
My Forgotten Self by Lynyetta Willis
I love this book just because it's unique and its a beautiful book! I have Catherine's Pascha in hardcover delightful to touch and to hold. The pages are smooth, the illustrations crisp and richly colored. The silky finish on the cover resists soiling and finger prints; it can be cleaned with a damp cloth. I've gotten to know the author as well and I am grateful Charlotte and I have crossed path. She is a super-smart and savvy lady!
Every Sunday is a little Pascha. So there's no reason to wait to give Catherine's Pascha to a child. Share the joy of Pascha all year round.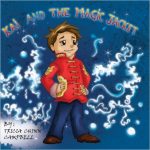 Kai and The Magic Coat by Tricia Chinn Campbell: Kai touched my heart because it is a gorgeous book that, in a very sweet and childlike way, also shares the belief that we all have Guardian Angels. I love that thought 🙂 Kai is about a modern-day boy who meets his Chinese ancestors. When Kai receives an anonymous gift, he is unexpectedly introduced to ancestors from another time. In this coming of age story, Kai is offered guidance (with a little humor) while confronted with choices and peer pressure. Kai And The Magic Jacket will encourage children to develop their instinct and confidence – when it comes to making the right decisions.
Don't Judge a Bird by its Feathers by Tori Nighthawk. What blew me away about this was not only the fact that Tori is the author and illustrator of this book, she's also only 16! COOL!
Tori wrote and illustrated "Don't Judge a Bird by its Feathers" at the age of 13. She drew her illustrations by hand, scanned them into her computer and then used graphic design programs to colorize the images. Her book was published in May of 2013 and promptly won a Gold Medal Mom's Choice Award and a Pinnacle Peak award for Children's Educational Books. Visit Tori on her website: www.ToriNighthawk.com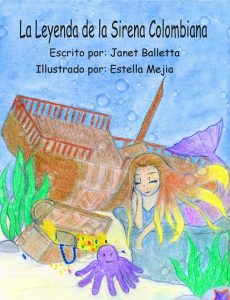 The Columbian Mermaid by Janet Balletta; This book is my daughter Sara's pick! She told me she loved the illustrations and anything "mermaid" is a winner for her 🙂 The Legend of the Colombian Mermaid is based on the legend of La Sirena De Hurtado, in Valledupar, Colombia. It dates back to 1917 and tells the story of a young girl who defied her parents and went swimming in the river on Good Friday. According to the legend the girl turned into a mermaid because she was cursed for her disobedience and non-observance of Good Friday a traditional Catholic holiday. Every summer, the swimming basin attracts hundreds of tourists who want to see the monument of the mermaid and swim in the crystal blue waters of this legendary river.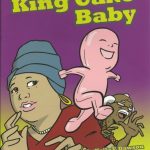 The King Cake Baby by Keila Dawson. I LOVED the fresh spin on an old classic and the activities in the back of the book are cool too. This book is a tasty re-telling of the Gingerbread Man tale – told New Orleans style! The runaway is the little plastic baby traditionally hidden inside the cake.The baby in the story is chased by an old Creole lady and an old Creole man in their French Quarter neighborhood, a praline lady in Jackson Square, and a waiter at Café du Monde. But can he outrun a clever baker? The book includes an easy king cake recipe.
Malala Yousafza: Warrior With Words by Karen Leggett: Who doesn't love Malala, right?
The inspiring, true story of Malala Yousafzai, a young Pakistani girl who stands up and speaks out for every child's right to education. Though she and two of her schoolmates were targeted by a Taliban gunman, a life-threatening injury only strengthened her resolve. Malala spoke at the U.N. on her 16th birthday in 2013, nine months after she was shot. Author and journalist Karen Leggett Abouraya, author of Hands Around the Library: Protecting Egypt's Treasured Books, brings Malala's story to life for young readers. Malala's story is more than a biography of a brave and outspoken teenager. It is a testament to the power of education to change the world for boys and girls everywhere. (amazon). I adore this book because of the story fo strength and perseverence, but also because they illustrations are really amazing.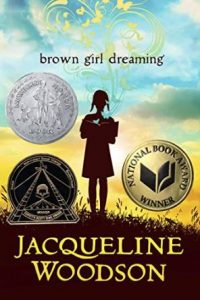 Brown Girl Dreaming by Jacqueline Woodson: This wonderful book was a gift from my dear friend, Susan Ready, who stood in line for HOURS to get this this signed copy from Jacqueline (and I didn't knew she was doing that for me!). The book itself is just as you would expect from Jacqueline; freakin awesome. Also inside is a sweet Post-It Note picture her son created while his mom was signing this book. If you have never read Brown Girl Dreaming; you need to.  This book is not only one of my top picks, it's also a treasured keepsake for me 🙂
Side Note: When Susan mailed me this gift, inside she included a note (which, to this day is just as special to me as the book) that reads: "One of the greatest gifts we can share is the gift of words! Jacqueline's words are powerful, emotional and brilliant. Often when I was reading this book I would stop, stare into space and reflect on what I had just read. I would even have tears in my eyes at times.
Jacqueline has a writing gift that draws the reader in with powerful emotions, but is written in sparse words. Enjoy the book, it's my pleasure to pass it along to someone who will appreciate it."
Love this woman! Thanks, Susan!
Now don't get me wrong….there are MANY books in my possession that I know will be winners…but I haven't had time to read them yet! Especially chapter books. I have a pile of chapter books that I KNOW will be killer, I just need to find the time to read them. More on those later 🙂
How about you? What books have moved your heart in 2015?
**some of these links are affiliate links