**The posts I write might contain affiliate links or be written in collaboration with businesses or brands. Please see my disclosure policy for more information.**
 It's time! The celebration month for Multicultural Children's Book Day 2017 (1/27/17)  has begun.
In its fourth year, MCBD was founded by Valarie Budayr from Jump Into A Book and Mia Wenjen from PragmaticMom. Their continuing mission is to raise awareness on the ongoing need to include kid's books that celebrate diversity in home and school bookshelves while also working diligently to get more of these types of books into the hands of young readers, parents and educators.
Despite census data that shows 37% of the US population consists of people of color, only 10% of children's books published have diversity content. Using the Multicultural Children's Book Day holiday, the MCBD Team are on a mission to change all of that. This event has also proven to be an excellent way to compile a list of diverse children's book titles and reviews for parents, grandparents, educators and librarians to use all year long.
Current Sponsors:  MCBD 2017 is honored to have some amazing Sponsors on board. Platinum Sponsors include Scholastic, Barefoot Books and Broccoli. Other Medallion Level Sponsors include heavy-hitters like Author Carole P. Roman, Audrey Press, Candlewick Press,  Fathers Incorporated, KidLitTV, Capstone Young Readers, ChildsPlayUsa, Author Gayle Swift, Wisdom Tales Press, Lee& Low Books, The Pack-n-Go Girls, Live Oak Media, Author Charlotte Riggle, Chronicle Books and Pomelo Books
Author Sponsor include: Karen Leggett Abouraya, Veronica Appleton, Susan Bernardo, Kathleen Burkinshaw, Delores Connors, Maria Dismondy, D.G. Driver, Geoff Griffin,  Savannah Hendricks, Stephen Hodges, Carmen Bernier-Grand,Vahid Imani, Gwen Jackson,  Hena, Kahn, David Kelly, Mariana Llanos, Natasha Moulton-Levy, Teddy O'Malley, Stacy McAnulty,  Cerece Murphy, Miranda Paul, Annette Pimentel, Greg Ransom, Sandra Richards, Elsa Takaoka, Graciela Tiscareño-Sato,  Sarah Stevenson, Monica Mathis-Stowe SmartChoiceNation, Andrea Y. Wang
We'd like to also give a shout-out to MCBD's impressive CoHost Team who not only hosts the book review link-up on celebration day, but who also works tirelessly to spread the word of this event. View our CoHosts HERE
Hashtag: Don't forget to connect with them on social media and be sure and look for/use their official hashtag #ReadYourWorld.
– Facebook page https://www.facebook.com/MulticulturalChildrensBookDay
– Twitter https://twitter.com/MCChildsBookDay
MY MCBD 2017 Book Pick
You may best know Tiffney Cambridge best from her hit VH1 series "Marrying The Game," most people may not be aware that this wildly talented mother of two is not only a teacher, but an author!
She has been an educator teaching inner city youth in the Inglewood Unified School District for over 17 years. A graduate of the University of Southern California, Tiffney has earned her Masters degree in Multicultural Education. She currently teaches third grade. She has two children, son King Justice age 7, and daughter Calilynn Dream age 4.
Tiffney has recently released her new children's book titled The Little Girl Who Lost Her Smile.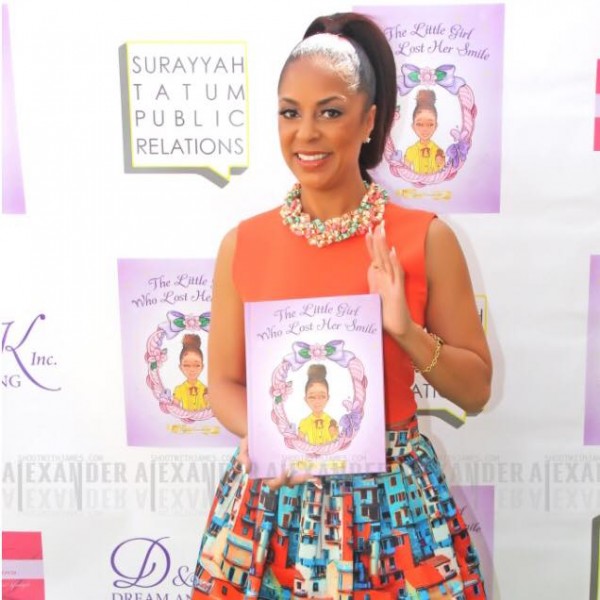 The Little Girl Who Lost Her Smile is a glimpse into the heart of Treasure, a once happy little girl whose family experiences separation. The story explores the many emotions that can arise as children question whether they will be happy again as the bonds of family are tested. This wonderful book provides reassurance and comfort to children experiencing divorce or separation.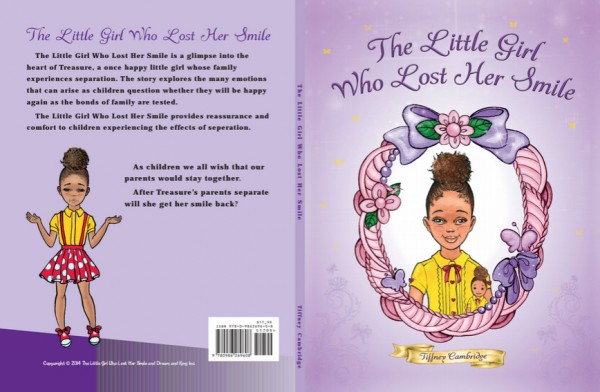 The Little Girl Who Lost Her Smile video interview
I absolutely loved this gorgeous  book and I also like how Tiffney has created this to not only be a useful tool for families struggling with separation and divorce, but also as a keepsake book. This book is hardcover, high quality and even has a "This Book Belongs To" page for kids to add their name and call it their own forever. The mission of this book is to help little ones cope with the occurrence of divorce or separation in their home. During these tough times, when a wee one may lose their smile, they can rest assured that they will get it back. I highly recommend this book for anyone with young children who are dealing with this circumstance in life. Visit Tiffney via her website here.
Grab your copy of this beautiful hardcover book here.
**I was given a free copy of the book to review. The opinions expressed are purely my own. Some of these links are affiliate links.