**The posts I write might contain affiliate links or be written in collaboration with businesses or brands. Please see my disclosure policy for more information.**
There is a TON going on in April including Easter and Autism Awareness Month.
Earth Day is another biggee.
Earth Day came about after six years of effort from then-Senator Gaylord Nelson, who, back in the 1960s, had the foresight to look at the long term impact of pollution on the environment. He was instrumental in getting his message out to college students, who took this issue on with concern and enthusiasm for this project. Earth Day became a National Awareness day on January 20, 1970, with the date set for celebration as April 22 of every year. In 2007, it is estimated that one billion people recognized Earth Day in some way.
Internationally, Earth Day is celebrated at different times, in approximately 175 countries. In the northern hemisphere, it is observed in the spring; in the southern hemisphere, Earth Day is observed in the fall.
The purpose of Earth Day was to raise awareness of environmental issues, promote education about the issue, and to advocate for a healthy and sustainable planet. Many schools have taken Earth Day a step further to incorporate extended teaching of environmental issues and observe Earth Week.
There is a multitude of ways to celebrate this very special day from planting a tree, reading Earth Day related books, to walking instead of driving for a day. Many parents, teachers, and caregivers also love the opportunity to deepen the understanding and wonder of this great planet we live on through activity and play. Below is a roundup of many wonderful activities and crafts from moms and earth-lovers just like you and I. Enjoy!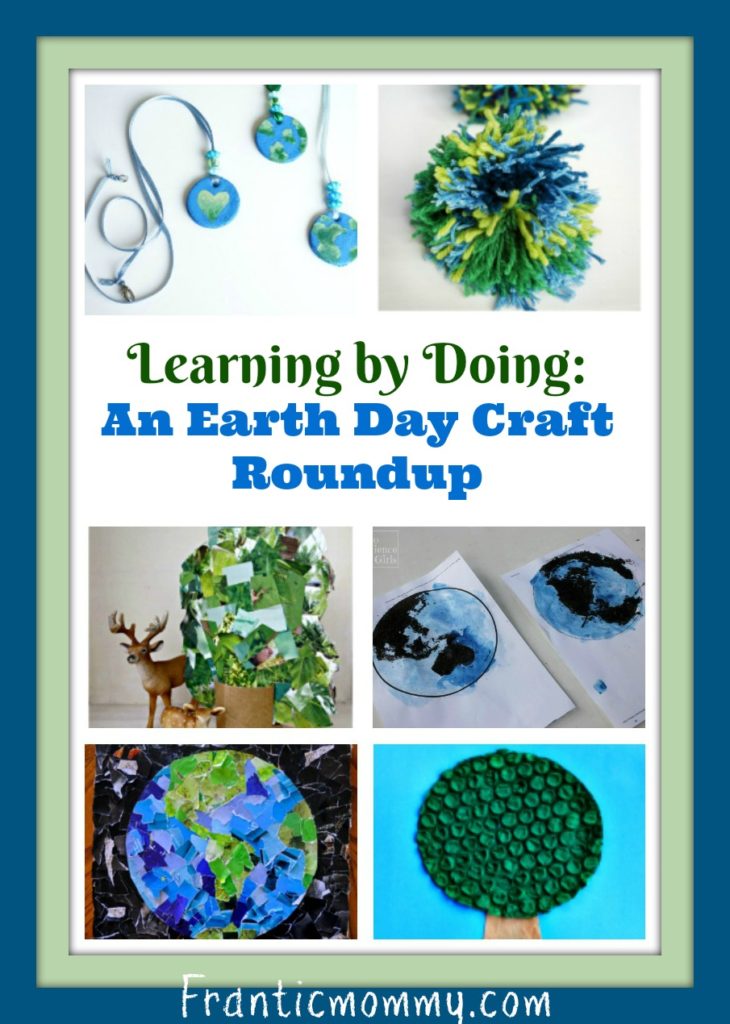 Confetti Earth Craft from No Time for Flashcards
Egg Carton Tree from Glued to my Crafts
Earth Day Craft using Real Dirt from Kids Activities Blog
Earth Day Collage from I Heart Crafty Things
Earth Day Necklace Craft from Kitchen Counter Chronicles
Make Your Own Cool Art Paper from Discovering the World Through My Son's Eyes
Eggshell Lorax Planter from Rubber Boots and Elf Shoes
How to Make this Fantastic Plastic Bottle Terrarium from Witty Hoots
DIY Juice Jug Green House from Nemcsok Farms
Cardboard Tree Craft from Little Worlds
Paper Mache Earth Mobile from Easy Crafts for Kids
Puffy Newspaper Tree Craft from I Heart Crafty Things
Recycled Bubble Wrap Tree Craft from Raising Little Superheroes
Recycled Planter on a String from JDaniel4's Mom
Earth Day Stained Glass from Royal Baloo
Nature Cuffs from Danya Banya
Stained Glass Earth Coffee Filter Craft from Mum in the Madhouse
Simple Bug Hotel for Kids from Red Ted Art
Planet Earth Pom-Poms from Cutting Tiny Bites
Watercolor Earth Picture from Go Science Kids
Upcycled Craft Supplies from Our Daily Craft
Woven Cloth Basket from Mosswood Connections
Earth Day is about enjoying and taking care of the planet so get outside and explore! This April 22nd, one of the best things you can do for yourself and the Earth is to remember why it's worth saving in the first place. Despite our best efforts to pollute and destroy it, the Earth is still an amazing, beautiful place to explore. Go for a hike, take a nature walk with your kids, plan a picnic in the park or a game of kickball with your buddies. Remember how great it feels to have the wind in your hair and the sun on your face! Reconnecting with nature is the best way to remind yourself why we're fighting so hard to protect it.
Get your read on!