**The posts I write might contain affiliate links or be written in collaboration with businesses or brands. Please see my disclosure policy for more information.**
There is SO much important stuff going on in September.
It's back-to-school time, Suicide Awareness and Prevention Month, Hispanic Hertitage Month.
It's also Ovarian Cancer Awareness Month
Caitlin Hoff from ConsumerSafety.org was kind enough to share some wonderful and powerful information on this very subject. This info is good stuff, people. Please share like CRAZY.
ConsumerSafety.org is teaming up with a local Syracuse, NY non-profit, Hope for Heather, whose proceeds go to national ovarian cancer research foundations. If you'd like to make a donation for national research efforts or share the organization with your readers, feel free to visit their donation page here.
Ovarian Cancer Awareness Month | Key Statistics About Ovarian Cancer
Ovarian cancer ranks 5th in cancer deaths amongst women
Ovarian cancer is the #1 cause of gynecologic cancer deaths
Women have a 1 in 75 chance of developing ovarian cancer in their lifetime
Half the women who develop ovarian cancer are over the age of 60
Around 22,000 women are diagnosed with ovarian cancer every year
n the United States alone, according to the CDC, 14,000 women die each year from ovarian cancer
Only 15% of ovarian cancers are diagnosed at stage 1
Every 23 minutes, a woman is diagnosed with ovarian cancer in the United States
Ovarian Cancer Awareness Month | Ovarian Cancer Facts and Symptoms
Bloating
Pelvic or abdominal pain
Trouble eating or feeling full quickly
Feeling the need to urinate urgently or often
Fatigue
Upset stomach
Back pain
Pain during sex
Constipation or menstrual changes
These symptoms are often experienced during a woman's period or during menopause. Because of this, many women ignore these symptoms as anything more serious and do not tell their doctors, delaying a possible diagnosis. It's so important to understand your body's normal symptoms and notify your doctor when changes occur in your cycle. These unusual changes can signal something more serious.
Ovarian Cancer Awareness Month | Know What Increases Your Risk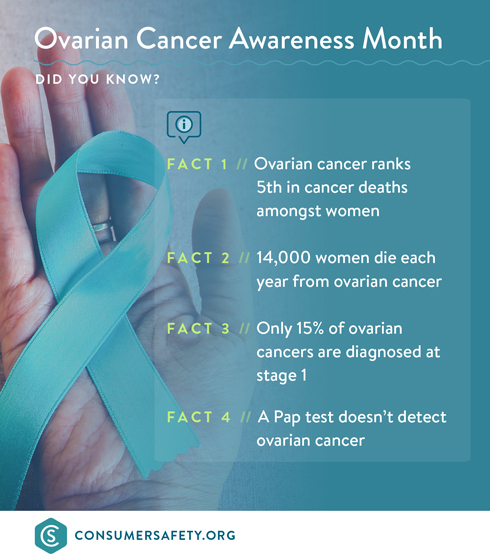 Family history of breast or ovarian cancer
Genetic mutations such as BRCA1 and BRCA2
Post-menopausal
Increasing in age over 40
Obesity, or a BMI of at least 30
Genetic mutations such as BRCA1 and BRCA2 indicate a higher risk for both breast and ovarian cancer. If someone in your family experienced either cancer, it's important to get tested for these mutations and know your own risk.
Ovarian Cancer Awareness Month | How To Reduce Your Risk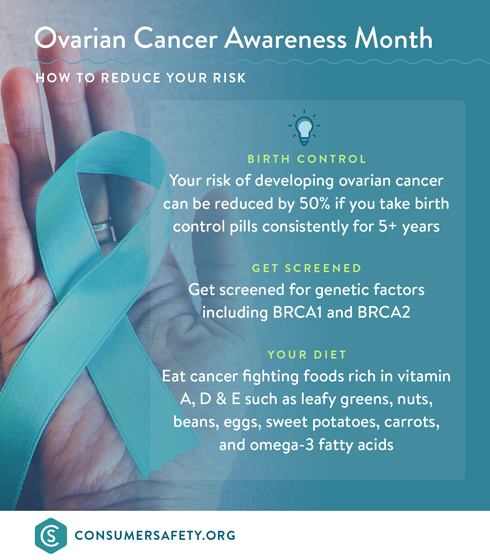 Pregnancy and breastfeeding
Eat foods rich in vitamin A, D & E, and omega-3 fatty acids
Do not use talcum powder on or near your genitals
Use of oral contraceptives for 5+ years reduces your risk of developing ovarian cancer by 50%
Studies and recent court verdicts have found a connection between talcum powder use and ovarian cancer development. Read about the most recent verdict here.
Sources