**The posts I write might contain affiliate links or be written in collaboration with businesses or brands. Please see my disclosure policy for more information.**
{shared with permission from Essentia Health press release}
Try a healthy twist on your Easter feast
By Bonnie Brost, licensed and registered dietitian at Essentia Health
Easter is on the horizon and this Christian Holy Day has many food traditions. Common meats are roasted lamb and baked ham, which have very different histories.
Lamb is commonly served at Easter in Europe. The tradition is traced to Jewish Passover feasts. It is also certainly fitting for Easter because Jesus is referred to as the "lamb of God." Lambs born in late winter have long offered fresh meat for the spring holiday.
In North America, ham is more common. Before refrigeration, it simply made sense to slaughter hogs in the fall because winter's cold temperatures helped keep the meat from spoiling. Curing hams for three to nine months was another way to safely preserve meat. By Easter, the supply of fresh meat was often consumed so ham became a holiday staple. Even now it remains a holiday tradition.
As a dietitian at the Essentia Health for patients with cardiovascular disease, I find myself being a spring Scrooge when it comes Easter meal planning. That because ham contains too much sodium for my patients.
The way ham is cured and sometimes smoked relies on large amounts of sodium. A 4-ounce serving of ham can have from 600 to 1,200 milligrams of sodium. The recommended daily allowance for Americans is less than 2,300 milligrams. For my patients with high blood pressure, heart failure or kidney disease less than 2,000 milligrams are recommended each day.
Eating less sodium is good for all of us. We need some sodium, usually less than 500 milligrams each day, for our nerves and muscles work correctly and to balance fluids in our bodies. This is easy because sodium occurs naturally in small amounts in even fresh foods. Too much sodium can cause fluid retention, increase blood pressure and damage our blood vessels, kidneys and heart even if we don't have high blood pressure.
After a century of refrigeration, we don't have to rely on a cured meat for our holiday tables. We can birth some new menu ideas for Easter.
If you're hosting an Easter dinner, ask your guests if they have any special dietary needs or restrictions. Offering a meat choice that's lower in sodium will bring a smile to many who do not want to make special requests. We like to be Minnesota nice. Enjoy your Easter holiday.
Here are three healthy recipes that are low in sodium and packed with flavor. Try Lamb Chops with Cranberry-Pear Chutney, Pork with Pineapple Salsa or Raspberry-Glazed Rosemary Chicken.
Lamb Chops with Cranberry-Pear Chutney (Adapted from How Stuff Works)

Chutney
½ cup water
¼ cup dried cranberries
¼ cup dried apricots, cut into quarters
¼ cup all-fruit raspberry spread
1 tablespoon red wine vinegar
¼ teaspoon ground cinnamon
1 pear, peeled and cut into ½ inch pieces
½ teaspoon vanilla
Lamb
4 bone-in lamb loin chops (about 5 ounces each)
2 cloves garlic minced (1 teaspoon)
¼ teaspoon dried rosemary leaves crushed
1/8 teaspoon salt
1/8 teaspoon black pepper
Olive oil
For chutney:
Combine water, cranberries, apricots, raspberry spread, vinegar and cinnamon in medium saucepan.  Bring to a boil. Reduce heat to medium-low and simmer, uncovered about 12-15 minutes or until mixture has thickened. Remove from heat; stir in pear and vanilla. Set aside.
For lamb:
Preheat broiler. Rub lamb chops with garlic on both sides. Sprinkle with rosemary, salt and pepper.
Coat broiler pan with a small amount of olive oil. Place lamb on pan; broil at least 5 inches from heat source for about 7 minutes. Turn; broil 7 minutes more or until desired doneness. Serve with chutney.
Nutrition Facts
Serving size: 1 lamb chop with ¼ cup chutney
Calories, 380; total fat, 18 grams; saturated fat, 8 grams; sodium, 170 milligrams; carbohydrates, 26 grams; fiber, 3 grams; and protein, 27 grams.
Pork with Pineapple Salsa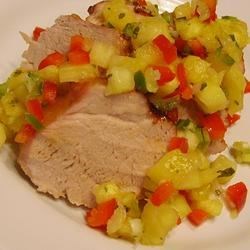 (Adapted from allrecipes.com)
2 1-pound pork tenderloins (less than 75 milligrams sodium per 4 ounces)
3 tablespoons brown sugar
2 tablespoons Dijon mustard
3/4 teaspoon minced fresh ginger root or ¼ teaspoon ground ginger
2 cups chopped fresh pineapple or 20-ounce can pineapple tidbits or chunks, drained
1/3 cup chopped red bell pepper
1 small jalapeno pepper, seeded and chopped
2 green onions, chopped
1 tablespoon fresh cilantro, minced
Preheat oven to 425 degrees F. Line a shallow roasting pan with aluminum foil. Place pork in roasting pan. Combine 3 tablespoons brown sugar, mustard, and ginger in bowl; spread over pork. Bake in preheated oven until juices run clear and a meat thermometer reads 160 degrees F, about 35-40 minutes. Let stand 10 minutes before slicing. Combine pineapple, peppers, green onions, and cilantro in a bowl. Serve with pork.
Nutrition Facts
Serving size: 5 ounce pork tenderloin with ¼ cup salsa
Calories, 245; total fat, 5 grams; saturated fat, 2 grams; sodium, 125 milligrams; carbohydrates, 15 grams; fiber, 1 gram; and protein, 31 grams
Raspberry-glazed Rosemary Chicken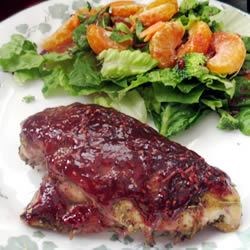 (Adapted from allrecipes.com)
1 tablespoon crushed rosemary
1 teaspoon rubbed sage
1/2 teaspoon dried oregano
8 skinless, boneless chicken breast halves (less than 75 milligrams sodium each)
1/4 cup fat-free chicken broth (less than 200 milligrams sodium per cup)
3/4 cup raspberry preserves
1/2 teaspoon honey mustard
1 teaspoon chopped fresh rosemary leaves
Preheat oven to 350 degrees F. In a small bowl, stir together crushed rosemary, sage and oregano.
Rub one side of each chicken breast with herb mixture. Place chicken herb-side up in a baking dish; pour broth into pan Bake for 20 minutes.
Place raspberry preserves in a microwave-safe bowl and heat for 20-30 seconds to soften. Stir in honey mustard and rosemary. Spread about 1 tablespoon of preserve mixture over each breast. Bake 10 minutes more.
Nutrition Facts
Serving size: 1 chicken breast
Calories, 220; total fat, 3.5 grams; saturated fat, 1 gram; sodium, 90 milligrams; carbohydrates, 14 grams; fiber, 0 grams; and protein, 31 grams.
Bonnie Brost is a licensed and registered dietitian at the Essentia Health.
Enjoy your Easter!
Essentia Health is guided by the values of quality, hospitality, respect, justice, stewardship and teamwork. From emergency care to convenient care, family care to speciality practice, Essentia Health delivers on its promise to be "Here With You" in the Brainerd Lakes Area.  Learn more at www.essentiahealth.org.