**The posts I write might contain affiliate links or be written in collaboration with businesses or brands. Please see my disclosure policy for more information.**
     After I finished reading
The Ostrich and Other Lost Things
by Beth Hautala, I felt like I had struck gold. This middle reader/YA book is truly one of the best books I've read in at least 2 years. I am blown away by the storytelling and the lesson of unconditional love.
The Ostrich
is a poignant and heartwarming story about the complexities and nuances of siblinghood and what the perception of "normal" is or isn't.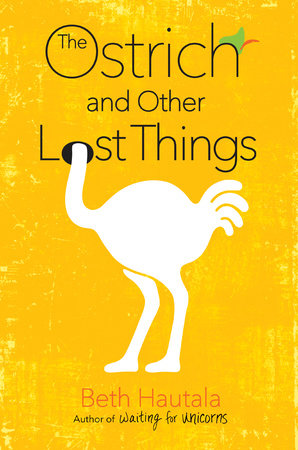 The Ostrich and Other Lost Things
     Eleven-year-old Olivia Grant has a knack for finding lost things. But there's one thing she can't seem to find: her brother Jacob's toy ostrich. And this isn't just any toy; Jacob is autistic, and Olivia is certain that when he lost his ostrich, his autism got significantly worse.
     With Their parents focused on helping Jacob, Olivia has had to give up a lot. So, when a local community theater announces auditions for a children's production of her favorite show, Peter Pan, Olivia jumps at the chance to claim something for herself. But nothing goes as planned, on stage or off, and when a real, live, ostrich escapes from the nearby zoo and causes even more trouble than Jacob's missing toy, things turn to chaos. Olivia knows that if she can just find Jacob's ostrich, everything will return to normal. But what does normal really mean? And is everything lost meant to be found?
     I think this book also touched my heart because I have a nephew, Nick, who is autistic. In the story, Beth portrayed Jacob in such an accurate and respectful way and my heart went out to Olivia as s she struggled with torn between loving her brother but being a little embarrassed by him too. It's a tough spot to be in and I know that struggle because I watched in the eyes of Nick's other brother when the two were still youngsters. BUT, love always perseveres and I know that Nick's brother, Chris, (just like young Olivia) would do anything for his brother.
     I asked Beth what drew her to this story and this is what she shared with me:
     Autism/Asperger's Syndrome/Spectrum disorders have only touched my life in that I've watched several friends navigate this particular issue in their own families. I found myself asking the question, "What if this were me? How would I love well? Where would I fail? How would I have to redefine what it means to care for others unconditionally?" OSTRICH was a very hard project for me to write because I felt like I had to take a serious look at my own heart and some of the things I found there needed work. I'm very proud of this book and I hope it educates and encourages and entertains readers of all ages.
     Beth also happens to be a fellow Minnesotan and we basically live/work/play in the same community. This is Beth's second book, her first being
Waiting for Unicorns
. I have to admit I almost did a cartwheel of happiness for Beth when I found out
The Ostrich
was published by Penguin Random House because I know what a VERY big deal that is. And how much works goes into getting to that point in your writing career.
Sage Advice for Writers
     I also asked Beth what her advice to new authors or those who dream of publishing a book would be and she had the BEST answer 🙂
     Read! Read! Read! And be diligent in your work. If you are serious about your dream, then don't just talk about writing, WRITE. Make it happen in the little everyday moments of life. There's never going to be an easy or convenient time to make a hard thing happen. So stop waiting for that perfect moment, that perfect space in time, that perfect idea. Just put one word in front of another. Make mistakes. Make more mistakes. But finish. I've never been quite so proud of the first (terrible) manuscript I ever finished. It will never ever be published. But I keep it because it was the first book-length project I ever completed. If you have a story to tell, tell it. Because only you can write your story in your voice. And the world needs your voice. We need your story.-Author Beth Hautala
Bottom line, I highly encourage readers, parents, and teachers to grab this book. It is truly a winner.
The Ostrich and Other Lost Things | About the Author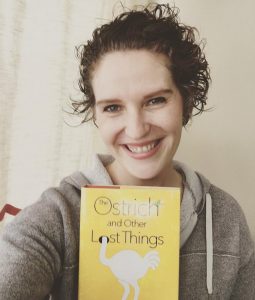 Beth Hautala holds a degree in writing and rhetoric from Northwestern College and is the author of Waiting For Unicorns and The Ostrich and Other Lost Things. She lives with her husband and four children in northern Minnesota, where she strives to write stories that tie her and imagination together. Connect with Beth on her website, Twitter, Facebook and Instagram.