**The posts I write might contain affiliate links or be written in collaboration with businesses or brands. Please see my disclosure policy for more information.**
If creating a side hustle, or a full-time gig, as a Virtual Assistant is still in your wheelhouse you are not going to want to miss this.
The International Virtual Assistants Association (IVAA) is dedicated to the professional education and development of members of the Virtual Assistance profession, and to educating the public on the role and function of the Virtual Assistant. If there was ever aGrand Slam of VA training, IVVA's online summit 2018 would be it.
I've been very open about the fact that, during the early days of creating my VA business, I took the WRONG road when it came to training. Instead of "piecemealing" my training to save $$ (so I thought) I instead made my learning curve HUGE and wasted a ridiculous amount of money. In hindsight, I should have invested in training from two places (and only 2 places) and IVAA was one of those.
IVAA Summit 2018
Annually, the International Virtual Assistants Association has annually hosted online conferences for its members and Virtual Assistants worldwide each fall. The Online Conferences (called Online Summits) are designed to provide a day-long conference with educational opportunities for both new and experienced Virtual Assistants, and networking with fellow colleagues.

It is a great way to leverage time and learn online – each session will cost you approximately $3 per session. Where else can you get training/workshops to help guide and grow your virtual assistant business at this price?
It's a two-day online Conference for Virtual Assistants looking to learn more and grow their business! We meet online via webinar and there are two tracks of speakers on our schedule to choose from. PLUS your registration includes the recordings of ALL sessions, so you will not miss any of these speakers!
Honestly, I am shifting away from VA work to focus on my project manager and freelancer writer work…BUT, with topics like these, you better believe I am signing up! This info could apply to ANY business, not just virtual assisting.
IVAA Summit 2018 Speakers
Amber Griffiths – Branding & Marketing
Jessica Modad – Mindset & Business Planning
1:00 pm – Welcome to the Summit | IVAA President, Emily Mazza
(Keynote) Kathy Goughenour
Darlene Victoria – Podcasting Whys
Lyndal Harris – Podcasting Hows
Christine Morris – Productivity
Lisa Riggi – Restarting Your Business
Sharon Broughton – Skills: OBM Services
Susan Weeks – Content Marketing
Tracie Shroyer – Skills: Launch Services
Suzanne Bird Harris – WordPress Website Security
Jill Frack – Skills: Project Management
Trish Hallmark – Effective Meetings
VA to VA Mastermind Live – Multi-VA Best Practices
Sylvia Garibaldi – Charging What You are Worth
The IVAA Summits are open to everyone!  You do NOT have to be a member to join in. 
IF you ARE a member of IVAA you will receive a DISCOUNT on registration, so I do encourage you to consider membership with IVAA, a worldwide, non-profit trade association for Virtual Assistants.
Amplify your business, skills, and results for your Virtual Assistant business with IVAA. Join us at AMPLIFY, the @IVAA_org Online Summit May 3-4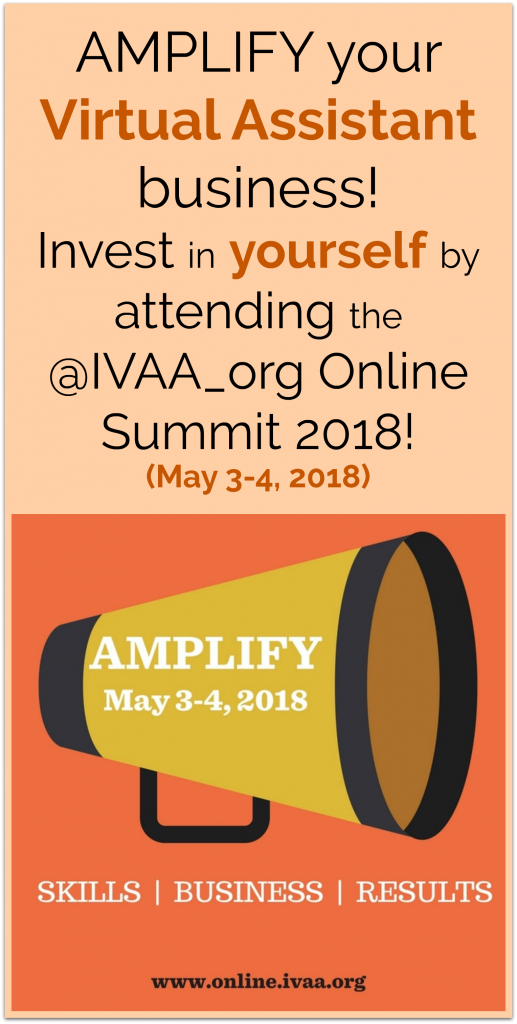 Here's a motherlode of great articles on What it Takes to Be a Virtual Assistant.