**The posts I write might contain affiliate links or be written in collaboration with businesses or brands. Please see my disclosure policy for more information.**
Guest post by By Lindsey Rowe Parker
There were sensory preferences that I had as a child that was considered "weird" or "strange", not like other kids. My siblings and friends were able to cope with certain things that made my skin crawl. And I just couldn't sit still.
I was labeled a dreamer, spaced out, obnoxious, lazy, that I wasn't applying myself. Labels that I carried with me well into adulthood, and worked hard to overcome. If I just tried a little harder…
At that time, I was not aware of sensory experiences in general, let alone that they could vary from person to person, and especially in autistic and neurodivergent people. (Hello, undiagnosed ADHD).
Fast forward 30+ years, and I noticed some of the traits in my daughter as a small child –we now know that she is autistic.
As with so many concerned, yet misinformed parents, we dove headfirst into all the things mainstream advice tells parents to do. Some support services were wonderful for her and us, and some we have since chosen not to continue. But in this intense exploration of how to best support her, and her little brother, we were introduced to the concept of sensory needs, and how they affect so much of our lives. 
Through pediatric occupational therapies with my kiddos, I was given a greater understanding of not only some of their sensory needs but also my own. It's like a lightbulb went on, and I thought "Oh wow, now I get it."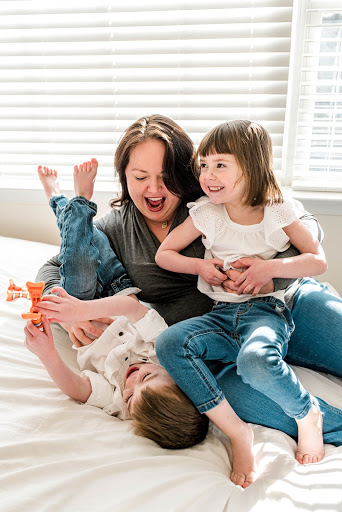 Picture Book About Sensory Differences
From the vibration in her feet when she runs, to the tap-tap-tap of her spoon on the table at mealtime, and the trickle of cool water running over her hands – these are the things that calm her jitters down…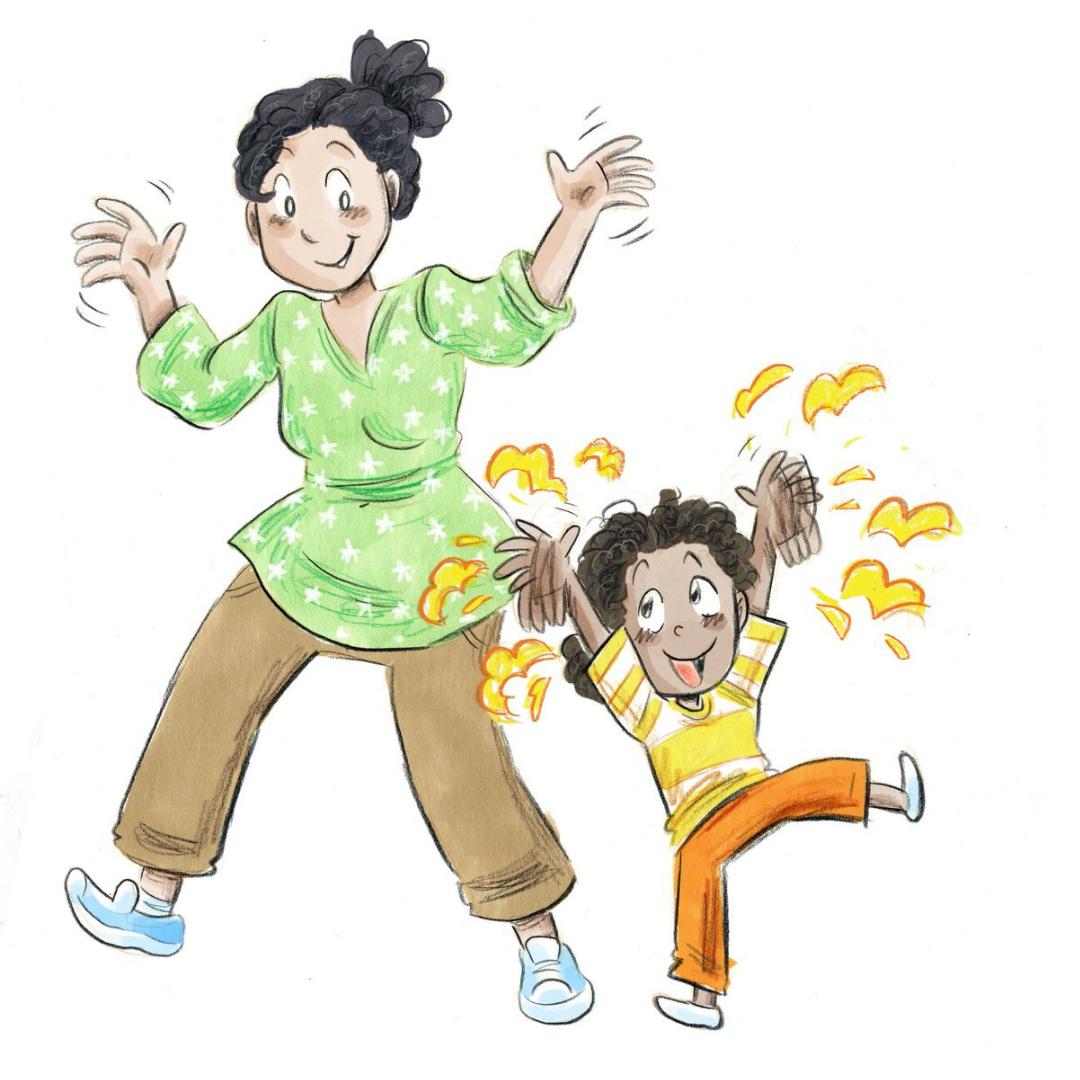 Wiggles, Stomps, and Squeezes Calm My Jitters Down is written from my own sensory experiences as a child, and now also as a mother learning how to provide sensory input to meet the needs of my kids. But I think this story applies to many kids and adults that are looking for that sensory input, which they themselves may not have a name for. 

I knew that I wanted to partner with an illustrator that understood these experiences, and I found Rebecca Burgess on Twitter. Rebecca is an autistic illustrator who is most known for the comic Understanding The Spectrum. From the first concept sketches, I knew Rebecca was absolutely the perfect person to bring this story to life. Their approach to the characters and their relationship was humbling to me, you can feel the support and understanding in the illustrations. 
We are so thrilled to share this picture book about sensory differences. It seems like such a simple story on the outside, but the themes and layers within are very personal for both Rebecca and me, and we are hoping that it speaks to anyone who has ever felt the need for a wiggle, stomp, or squeeze! We are also fortunate to have worked with Laura Fuentes López to release a Spanish version, Meneos, Pistones, Y Apretones Para Calmar Mi Cosquilleo.
Recently after a series of events, a car accident, and a slew of neuropsychological testing, I was finally let in on a little secret. All those things that I thought were "wrong" with me as a kid and young adult were just the way my brain is wired. I received my adult diagnosis of ADHD.
The most important thing to come from that experience is that it has changed my internal dialogue with myself. I listen better to my body, my mind, and what I need.  I give myself some grace.
One of my favorite parts of the book is that the child is accepted and understood. She is not asked to change, she is supported, she is allowed to be herself, she is loved. 
As a parent, I know I am going to get a lot wrong on this journey through life. But my goal is to listen, and learn a little more every day — because this part I want to get right.
Wiggles, Stomps and Squeezes Calm My Jitters Down, a picture book about sensory differences is available NOW for preorder! Written by Lindsey Rowe Parker, Illustrated by Rebecca Burgess.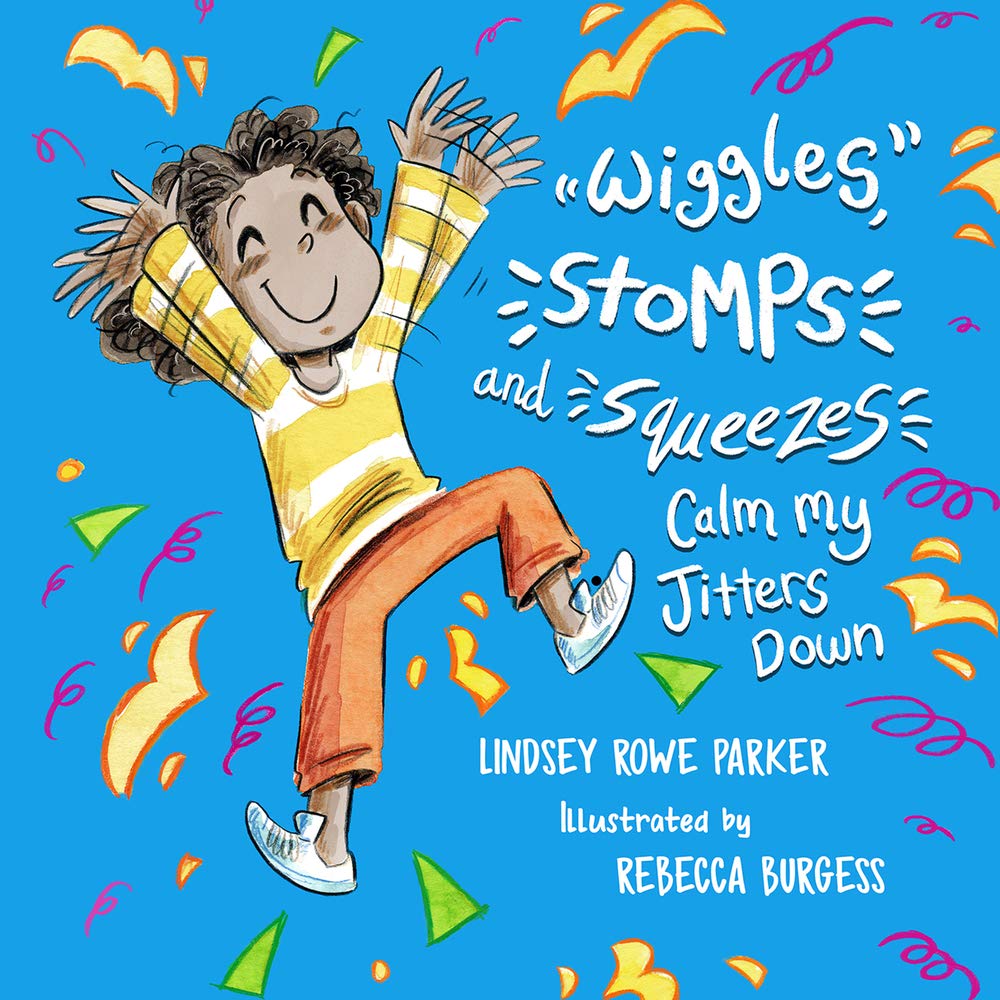 About the Author: Lindsey Rowe Parker
Lindsey is a mom at the tail end of toddler-hood, embracing the next phase of parenting while learning to navigate and advocate for her young autistic daughter.  With a recent adult diagnosis of ADHD and a new deeper understanding of her own sensory experiences, she has begun to delve into the neurodiversity community learning all she can from neurodivergent voices.  This is her first picture book, and she hopes it connects with everyone who has felt the need for a wiggle, stomp, or squeeze! 
Visit wigglesstompsandsqueezes.com
About the Illustrator: Rebecca Burgess
Rebecca is an autistic illustrator living in the UK. They love history and nature, but comics and illustration most of all! Rebecca's passion has led her to work with the likes of The Guardian and Jessica Kingsley Publishing. Rebecca is most famous for her online comic 'Understanding The Spectrum', a comic explaining autism that has been shared in several books and used by parents, teachers, and doctors.
Get the Book! You can preorder Wiggles, Stomps, and Squeezes Calm my Jitters Down and Meneos, Pistones, Y Apretones Para Calmar Mi Cosquilleo. Visit wigglesstompsandsqueezes.com
Connect with us on social media: 
instagram.com/wigglesstompsandsqueezes 
https://twitter.com/WigglesBook/
https://www.facebook.com/wigglesstompsandsqueezes
---
Multicultural Children's Book Day 2021 (1/29/21) is in its 8th year! This non-profit children's literacy initiative was founded by Valarie Budayr and Mia Wenjen; two diverse book-loving moms who saw a need to shine the spotlight on all of the multicultural books and authors on the market while also working to get those book into the hands of young readers and educators.
Eight years in, MCBD's mission is to raise awareness of the ongoing need to include kids' books that celebrate diversity in homes and school bookshelves continues. Read about our Mission & History HERE.
MCBD 2021 is honored to be Supported by these Medallion Sponsors!
FOUNDER'S CIRCLE: Mia Wenjen (Prgamaticmom) and Valarie Budayr's (Audreypress.com)
Platinum Sponsors: Language Lizard Bilingual Books in 50+ Languages, Author Deedee Cummings and Make A Way Media
Gold Sponsors: Barefoot Books, Candlewick Press, Capstone, Hoopoe Books, KidLitTV, Peachtree Publishing Company Inc.
Silver Sponsors: Charlotte Riggle, Connecticut Association of School Librarians, Author Kimberly Gordon Biddle, Pack-N-Go Girls
Bronze Sponsors: Agatha Rodi and AMELIE is IMPRESSED!, Barnes Brothers Books, Create and Educate Solutions, LLC, Dreambuilt Books, Dyesha and Triesha McCants/McCants Squared, Redfin Real Estate, Snowflake Stories, Star Bright Books, TimTimTom Bilingual Personalized Books, Author Vivian Kirkfield, Wisdom Tales Press, My Well Read Child
MCBD 2021 is honored to be Supported by these Author Sponsors!
Poster Artist: Nat Iwata
Authors: Author Afsaneh Moradian, Author Alva Sachs & Three Wishes Publishing Company, Author Angeliki Stamatopoulou-Pedersen, Author Anna Olswanger, Author Casey Bell , Author Claudine Norden, Author Debbie Dadey, Author Diana Huang & Intrepids, Author Eugenia Chu & Brandon goes to Beijing, Green Kids Club, Author Gwen Jackson, Author Janet Balletta, Author Josh Funk, Author Julia Inserro, Karter Johnson & Popcorn and Books, Author Kathleen Burkinshaw & The Last Cherry Blossom, Author Keila Dawson, Maya/Neel Adventures with Culture Groove, Author Mia Wenjen, Michael Genhart, Nancy Tupper Ling, Author Natalie Murray, Natalie McDonald-Perkins, Author Natasha Yim, Author Phe Lang and Me On The Page Publishing, Sandra Elaine Scott, Author Shoumi Sen & From The Toddler Diaries, SISSY GOES TINY by Rebecca Flansburg and B.A. Norrgard, Susan Schaefer Bernardo & Illustrator Courtenay Fletcher, Tales of the Five Enchanted Mermaids, Author Theresa Mackiewicz, Tonya Duncan and the Sophie Washington Book Series, Author Toshia Stelivan, Valerie Williams-Sanchez & The Cocoa Kids Collection Books©, Author Vanessa Womack, MBA, Author Veronica Appleton & the Journey to Appleville book series
MCBD 2021 is Honored to be Supported by these Media Partners!
Check out MCBD's Multicultural Books for Kids Pinterest Board!
FREE RESOURCES from Multicultural Children's Book Day
Diversity Book Lists & Activities for Teachers and Parents
Homeschool Diverse Kidlit Booklist & Activity Kit
FREE Teacher Classroom Activism and Activists Kit
FREE Teacher Classroom Empathy Kit
FREE Teacher Classroom Kindness Kit
FREE Teacher Classroom Physical and Developmental Challenges Kit
FREE Teacher Classroom Poverty Kit
FREE Diversity Book for Classrooms Program
Join us on Friday, Jan 29, 2021, at 9 pm EST for the 8th annual Multicultural Children's Book Day Twitter Party!
This epically fun and fast-paced hour includes multicultural book discussions, addressing timely issues, diverse book recommendations, & reading ideas.
We will be giving away an 8-Book Bundle every 5 minutes plus Bonus Prizes as well! *** US and Global participants welcome. **
Follow the hashtag #ReadYourWorld to join the conversation, connect with like-minded parts, authors, publishers, educators, organizations, and librarians. See you all very soon on Twitter!
Hashtag: Don't forget to connect with us on social media and be sure and look for/use our official hashtag #ReadYourWorld.