**The posts I write might contain affiliate links or be written in collaboration with businesses or brands. Please see my disclosure policy for more information.**
Note from Franticmommy: I can't even begin to tell you how refreshing and exciting it is to see a diverse chapter/YA book that features the bravery and courage of a teenage girl whose superpower is Downs Syndrome. Kudos to the authors and publisher for producing an accurate, sensitive, and entertaining read.
To celebrate the release of Rosie Loves Jack by Mel Darbon on March 1st, blogs across the web are featuring original content from Mel, as well as 10 chances to win the hardcover!
by Mel Darbon and 
Rula Sweby
Before my British publishers, Usborne Books Ltd, were willing to publish my novel, Rosie Loves Jack, they asked a young woman called Rula Sweby if, as a person with Down syndrome, she would read and assess my manuscript because it was important for us to ensure the story and characters felt authentic from her perspective. I was delighted with Rula's detailed, sensitive, and insightful report on my book. She had gone to so much trouble to do this and it meant a lot to me, especially since Rula felt that Rosie was a realistic portrayal of a girl with Down syndrome and that she was a compelling character. I was especially happy to see that Rula felt Rosie behaved in similar ways to her in many situations, and was spot on when she said that Rosie's love for Jack is what makes her brave enough to overcome danger.
While it concerned me that Rula had felt scared in places, I believe that sometimes exploring difficult topics within the safe pages of a book gives the reader an opportunity to better understand them by asking questions or having a discussion about them—and I always knew that Rosie would get away from the villains and be safe!
Upon hearing that Rosie Loves Jack would be published in America, Rula's father emailed my UK publishers to say that Rula is just as excited as I am. And she is delighted that I am sharing her report with my readers as part of my blog tour. I wanted everyone to see what a remarkable young woman she is, as does her father: "You never know, it might bring her more into the public eye herself. She still has dreams of seeing her own work being published one day. She's very talented and is exceptional for someone with Down Syndrome. We'll have to see what the future holds for her."
I hope that my book helps young people everywhere understand Down syndrome more and that they will see, as Rula reiterated, how emotionally open and kind people with Down syndrome are, and that like everyone else they deserve to follow their dreams. I'm sure the future holds many great things for Rula and I sincerely hope she gets to achieve her dreams. 
And while I am incredibly grateful for Rula's detailed and informative perspective, I am aware that one person's point of view does not represent an entire community, and I'd love to hear from readers who also identify as a member of this community or have experience working directly with people with Down syndrome. 
I'm going to leave the last words before you read Rula's report, to her. This is Rula's reply to my thanks for that report. It says it all.
"Thank you for the email you had sent. It was no trouble at all for me to proofread this book for you. It was my pleasure doing something for the greater good. Thanks again for you to give me this opportunity to do something worthwhile."
ROSIE LOVES JACK – A SENSITIVE READ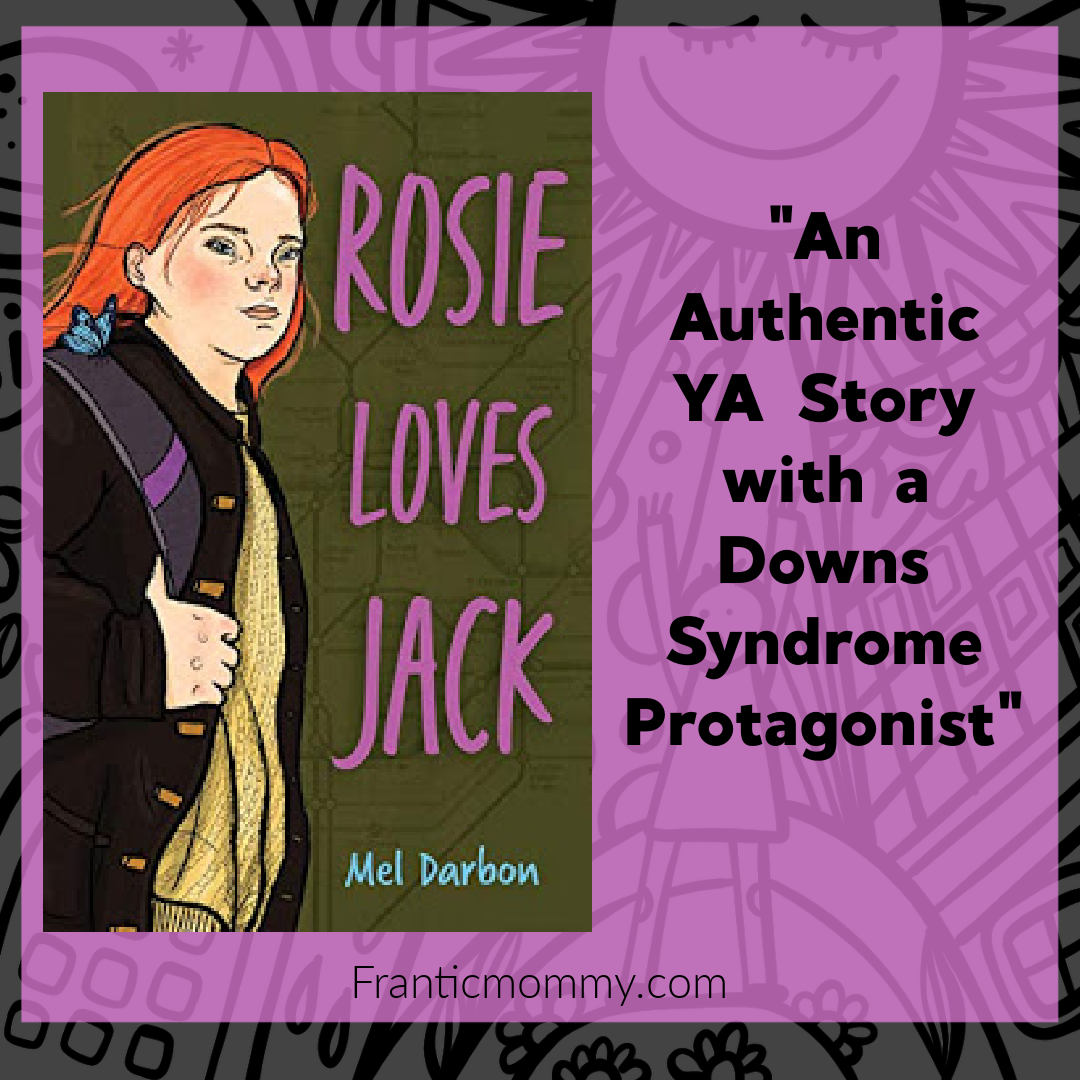 INTRO
I enjoyed reading "Rosie Loves Jack." I thought the locations were varied and the characterization was strong, especially Rosie's character that I'd found to be compelling. However, the book was intense in places especially when Rosie was with Janek and the storyline constantly made me question how I would react if I were Rosie. 
I was insecure about how I would feel about the darker areas within the story and I did feel a little scared in places. I had felt anxious about how Rosie would escape from the dangerous situations she found herself in.
AUTHENTICITY
I felt that Rosie finds it easy to reveal her emotional side by the way she expresses herself to people but she can find it hard to be sociable with others. I, too, often find myself feeling insecure when it comes to being in social gatherings, being unsure how to just be myself. 
The way Rosie often speaks, by running her words and sentences all together is something that I often do so that behavior is consistent with someone who has Downs Syndrome.
Rosie holds on to memories of sentimental value, which bring comfort to her. I use the same ways to make me more confident and to remember people from my past.
In the part where Rosie is sitting on the train with Lawrence and talking with him, they both observe two young girls who are acting silly and pointing at them. I felt like I was Rosie in that scene because I often feel people are looking at me as someone who is different. 
Even though I would want to say something to those girls for poking fun at someone with Downs Syndrome like Rosie, I also wouldn't have the confidence to say anything in that sort of situation. 
Rosie considers herself to be different and special because she has Downs Syndrome. People treat her as being different. That's true in my case but I think I'm unique. On the positive side, people treat me differently by making allowances for me and being lenient. 
Rosie is a vulnerable young girl who can be easily led and a bit naive. I do think many people that have Downs Syndrome can sometimes be persuaded to make unwise decisions or choices and perhaps do risky things without realizing they are doing them. 
She doesn't realize how risky it is for her to travel alone and many other Downs Syndrome people wouldn't realize this either.
In the Youth Hostel scene, it is all too easy for Mia to steal Rosie's personal belongings and a train ticket so this underlines how trusting Rosie is. It can be a typical characteristic of Downs Syndrome people to be too trusting and not to be aware enough of stranger danger.
Rosie doesn't understand Lisette's attitude to her and is puzzled when Lisette acts cruelly by calling her a retard. Downs Syndrome people tend not to understand cruelty as they are usually emotionally open and kind. 
Lisette and Courtney do swear a lot around here and, like Rosie, Downs Syndrome people don't like swearing, considering it to be rather aggressive and do not like arguing, swearing or having negativity in the air around them.
When Janek offers Rosie to stay in his house, she doesn't realize that most people would not make this offer and doesn't see the possible danger in this. She mistakenly sees this as an act of kindness. 
Rosie often repeats words and phrases, which is a habit I can have as well.
I think Rosie likes being independent, making her own decisions, wary of asking people for help when she needs it. This desire to be more independent is a common feeling for people with Downs Syndrome who get fed up with other people having to do things for them.
When Rosie dreams of living in her own house with Jack and having children and a dog, she is wishing for the things other people have. Downs Syndrome people do dream of having the same lives as other people and are envious of them…I know I am!
Downs Syndrome people often find it hard to express themselves clearly and get the message across. Rosie behaves like this when she is questioned by the police. It would be usual for Downs Syndrome people to be anxious when being spoken to by people in authority, as people in uniform.
Overall I think the portrayal of a Downs Syndrome person in this book is realistic. The things Rosie says and does are quite typical of many Downs Syndrome people. The only way Rosie is different from other people who have Downs is that most of them wouldn't go on a journey by themselves as Rosie does. 
They would be too scared and not know how to do that. But perhaps Rosie is so unaware of the danger that her love for Jack is strong enough to make her brave enough even to do this. 
And because she is so brave and determined to do things for herself it leads her into dangerous situations. Rosie doesn't go looking for trouble but I do think trouble does find her. She doesn't always know what to do in dangerous situations that may befall her throughout the book while she is overcoming obstacles in life but she does remain her own person. 
*****

"The author stays out of Rosie's way, successfully depicting her protagonist as a person, not a puppet or a platform. The other characters populating the book are realistic, with a striking range of personality traits. The plot is so engrossing that the book is almost impossible to put down. Yes, Rosie loves Jack, and readers are going to love Rosie." —Booklist, STARRED REVIEW
Fall in love with sixteen-year-old Rosie, a girl with Down syndrome who's fighting for little freedoms, tolerance, and love. A stunning, beautifully insightful debut YA novel from Mel Darbon.
"An enthralling story of resolve and grit… a moving and uplifting novel." –The Guardian
"They can't send you away. What will we do? We need us. I stop your anger, Jack. And you make me strong. You make me Rosie."
Rosie loves Jack. Jack loves Rosie. So when they're separated, Rosie will do anything to find the boy who makes the sunshine in her head. Even defy her parents' orders and run away from home. Even struggle across London and travel to Brighton on her own, though the trains are canceled and the snow is falling. Even though people might think a girl like Rosie, who has Down syndrome, could never survive on her own.
Introducing a strong and determined protagonist with Down syndrome, debut author Mel Darbon gives readers an underrepresented but much-needed point of view with a voice-driven, heartfelt story of finding your place in an often big and intimidating world.
About the Author: Mel Darbon spent a large part of her childhood inventing stories to keep her autistic brother happy on car journeys. She won't mention the time spent with him standing by level crossings waiting for the InterCity 125 to go past, as she wouldn't want to be labeled a trainspotter. Life took her in many different directions working as a theatre designer and freelance artist, as well as teaching young adults with learning disabilities and running creative workshops for teenage mums. She moved to Bath in 2014 with her husband and their dog, Alfie. Rosie Loves Jack is her debut book.
a Rafflecopter giveaway