**The posts I write might contain affiliate links or be written in collaboration with businesses or brands. Please see my disclosure policy for more information.**
For MCBD2022, I was gifted a wonderful middle-grade chapter book to review called Snorkel McCorkle and the Lost Flipper by Linda Rose Thornburg [ writer] and Katherine Archer [music and lyrics].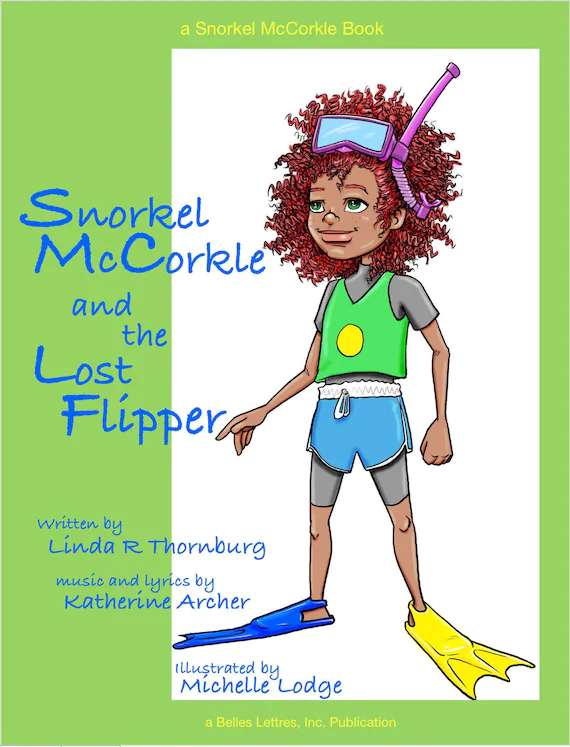 Snorkel McCorkle is an eco-adventure story that is perfect for middle-grade readers. After her mom disappears in a storm at sea, only 10-year-old eco-champion Snorkel McCorkle believes she is alive and drifting in the currents. When her own kayak is pulled out to sea in a storm, Snorkel's pals, Matilda the Manatee, and Figaro the Opera-Singing Pelican rush to her aid.
During the trio's time in open water, Snorkel learns first hand the dangers facing the creatures of the sea as they: find themselves in a gyre of plastic, rescue an endangered sea turtle trapped in a ghost net, encounter a Mama Right whale who thinks Snorkel is a whaler, and are overwhelmed by a pod of dolphins racing away from seismic testing.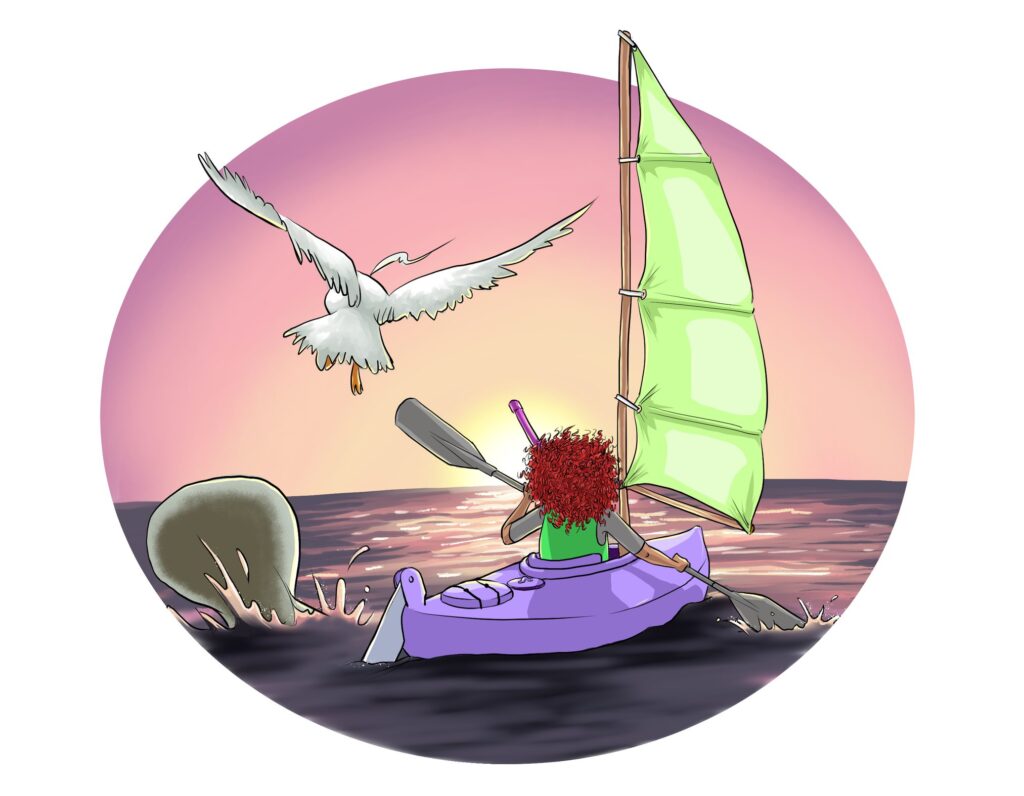 When I asked Katherine what inspired the book and the unique title, this is what she had to say.
"My mother's maiden name is McCorkle. Years ago a couple of friends nicknamed me Snorkel McCorkle and drew a funny caricature. That stuck in my brain for years, and as I was heavily involved with arts in education,  the desire to weave a fun, inspiring, and informative story that touched upon all I value became stronger. So I wrote Snorkel McCorkle into being through song.  I knew she needed some buddies so I fashioned Figaro and Matilda through song after real-life encounters I had. Both a pelican and manatee I encountered had injuries—Figaro, a bum leg, and Matilda, a missing flipper. This gave an opportunity to teach about the perils critters encounter due to man. Both of these critters were thriving in spite of handicaps in real life, so they were an inspiration- perfect role models for kids who have special needs to overcome great obstacles and thrive. ( I've worked extensively with special needs kids)
When Linda Thornburg heard my songs she flipped out and said please let me write the book! We have very similar values so her storyline and writing expertise brought the book to life!  One of our biggest goals was that this book meets STEM and STEAM curriculum standards."
When I asked if this dynamic duo had any more books published or in the works, Katherine shared that Linda published a book called "The Cat Doesn't Travel the Usual Path and has also written the script for "Snorkel McCorkle and the Lost Flipper" for a proposed animated movie.
This beautiful book can be purchased via their Etsy shop HERE.
Multicultural Children's Book Day 2022 (1/28/22) is in its 9th year! This non-profit children's literacy initiative was founded by Valarie Budayr and Mia Wenjen; two diverse book-loving moms who saw a need to shine the spotlight on all of the multicultural books and authors on the market while also working to get those books into the hands of young readers and educators.
MCBD's mission is to raise awareness of the ongoing need to include kids' books that celebrate diversity in homes and school bookshelves. Read about our Mission & History HERE.
MCBD 2022 is honored to be Supported by these Medallion Sponsors!
SUPER PLATINUM: Make A Way Media
PLATINUM: Language Lizard
GOLD: Barefoot Books, KidLitTV, Candlewick, Capstone, Abrams Books
SILVER: Pack-n-Go Girls, Charlotte Riggle, Kimberly Gordon Biddle
BRONZE: Carole P. Roman, Patrice McLaurin, Dyesha and Triesha McCants/McCants Squared, Redfin.com, Redfin Canada, Redfin Mortgage, Redfin/Title Forward, Create & Educate, Star Bright Books, Vivian Kirkfield, Dr. Eleanor Wint, Kind World Publishing, Snowflake Stories, Lisa Wee, SONGJU MA, Melissa Stoller, J.C. Kato and J.C.², Crystel Patterson, Audrey Press, Pragmaticmom, TimTimTom, Wisdom Tales
MCBD 2022 is honored to be Supported by these Author Sponsors!
Charlene Mosley (official MCBD2022 Poster Creator)
Illustrator Isabelle Roxas (Class Kit Poster Creator)
Alva Sachs, Brianna Carter, Ebony Zay Zay, Rita Bhandari, Gwen Jackson, Lois Petren/The 5 Enchanted Mermaids, Valerie Williams-Sanchez and Valorena Publishing, Josh Funk, Afsaneh Moradian, Eugenia Chu, Maritza Martínez Mejía, Diana Huang, Kathleen Burkinshaw, CultureGroove, Sandra Elaine Scott, Dorena Williamson, Veronica Appleton, Alejandra Domenzain, Lauren Muskovitz, Anna Gilchrist and Sandfish Publishing, Tonya Duncan Ellis, Kimberly Lee, Susan Schaefer Bernardo & Illustrator Courtenay Fletcher, Nancy Tupper Ling, Winsome Hudson-Bingham, Amanda Hsiung-Blodgett, Sivan Hong, Michael Genhart, Debbie Dadey, Elizabeth Cureton, Stephanie Wildman, Maryann Jacob, Sherri Maret, Rochelle Melander, Dia Mixon, Kiyanda and Benjamin Young, Shereen Rahming, Linda Thornburg and Katherine Archer, Rebecca Flansburg and BA Norrgard , Maxine Schur Natalie McDonald-Perkins
MCBD 2022 is Honored to be Supported by our CoHosts and Global CoHosts!
MCBD 2022 is Honored to be Supported by these Media Partners!
Check out MCBD's Multicultural Books for Kids Pinterest Board!
FREE RESOURCES from Multicultural Children's Book Day
Diversity Book Lists & Activities for Teachers and Parents
Homeschool Diverse Kidlit Booklist & Activity Kit
FREE Teacher Classroom Activism and Activists Kit
FREE Teacher Classroom Empathy Kit
FREE Teacher Classroom Kindness Kit
FREE Teacher Classroom Physical and Developmental Challenges Kit
FREE Teacher Classroom Poverty Kit
FREE Homeschool Diverse Kidlit Booklist & Activity Kit
FREE Teacher Classroom Raising Awareness on Systemic Racism in America Classroom Kit
FREE Diversity Book for Classrooms Program
Join us on Friday, Jan 29, 2021, at 9 pm EST for the 9th annual Multicultural Children's Book Day Twitter Party! Be sure and follow MCBD and Make A Way Media on Twitter!
This epically fun and fast-paced hour includes multicultural book discussions, addressing timely issues, diverse book recommendations, & reading ideas.
We will be giving away an 8-Book Bundle every 5 minutes plus Bonus Prizes as well! *** US and Global participants welcome. **
Follow the hashtag #ReadYourWorld to join the conversation, connect with like-minded parts, authors, publishers, educators, organizations, and librarians. See you all very soon on Twitter!
Hashtag: Don't forget to connect with us on social media and be sure and look for/use our official hashtag #ReadYourWorld.