**The posts I write might contain affiliate links or be written in collaboration with businesses or brands. Please see my disclosure policy for more information.**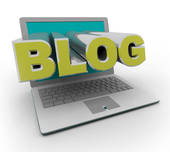 I was just reading an article off of blogherald.com that Technorati currently states it is tracking over 112.8 million blogs, a number which obviously does not include all the 72.82 million Chinese blogs as counted by The China Internet Network Information Center.
Dang.
112 MILLION blogs! That is freakin awesome, overwhelming and exciting. All at the same time.
In my mind, that's 112 million chances to read some amazing blogs and connect with some amazing people.
Who can I learn from?
Who will make me laugh? Cry? Say WTF?
Wow. Where do I begin?
Every week I try to delve into one new blog and connect with one new amazing blogger in my precious 59-minutes-and-59-seconds. The problem is there are SO MANY good ones. So many Mommies out there that genuinely take my breath away. I could sit on my ever-growing backside and read blogs for hours. Simply hours.
But when does a person say "enough is enough"??
I have my core of bloggy buddies I try to read and communicate with on a regular basis. I don't always succeed in touching base with all those whom I adore daily, but anyone who knows me know that, once you're my friend, I am loyal to core. But it's like in non-blogsphere world. There are only so hours in the day and the more friends you have, the more your time is stretched thin.
So I wrestle. Wrestle with the urge to continue to read, connect and "meet" more awesome Mommy Bloggers….or spend that same time staying connected to my core buddies.
Maybe I flatter myself. Maybe I am the only one in Blog Land that thinks like that. I notice Followers are a fickle lot. They come, laugh, comment two or three times, then fade off. Me thinks that's just how it rolls in the Blogosphere.
How about you, oh appreciated reader? Is there a "saturation point" for you? A time to say "whoa in the mud hole" and just stick to your favs? Or do your favs change daily, weekly, monthly?
Inquiring minds want to know. 🙂