**The posts I write might contain affiliate links or be written in collaboration with businesses or brands. Please see my disclosure policy for more information.**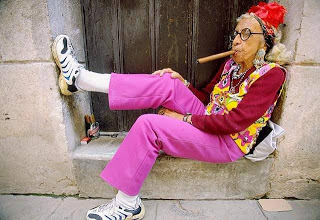 rctcbcmalice.blogspot.com
When I am old I will wear purple.
When I am old, I will NOT be caught dead in the matching-embroidered-his-and-her Howling Wolf fleece jackets.
When I am old I will not succumb to decorating my landscape with handmade wooden-cut-outs of a lady bending over in her garden with her pantaloons showing. Or gaudy lawn ornaments on my front lawn. Just saying that, I have probably jinxed myself. There is probably a pink flamingo taking a dump on my front step as I type.

And in regards to my physical self when I am old, I will make sure my "girls" stay North of The Border. "The Border" being my navel. Would not want the grandkids to say, "gramma, you're supposed to wear your fanny pack on the outside of your shirt,..oh wait..that's not a fanny pack…."
AWKWARD.
I will dance in rain, love like I'll never get hurt, and fart like a bull moose in a burrito field….
OK, I made that last one up.
When I am old I will do things that I have always wanted to do. Like Drunken Facebooking, Naked Hill-Billy Hand Fishin, or Man Camp Pole Dancing. Or post about my Man Camp Pole Dancing as I am Drunken Facebooking.

I will eat whatever-the-hell I want, and if my waistline requires stretchy pants and moo-moo tops, so what. Who cares? Who the heck am I trying to impress anymore?
And I will not use the word "blouses" or "slacks." That is SO "old people's lingo."
Speaking of not having to impress..I will probably wear these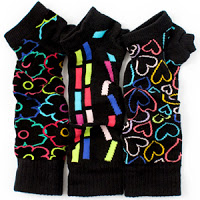 Zany Black Mosaic Arm Warmers
And maybe even these
Don't believe me? TRY ME. And if I can find it, I may get my belly button pierced. When I am old. In a pinch, I could hang my car keys from it. Or an air freshener.
'Nuff said.
And lastly, I will travel, explore, and go on as many adventures as my overweight, pole dancing, moose-farting, moo-moo-wearing carcass will allow. I want my kids to always be asking "where in God's-green-earth is Mom NOW???"
There won't be no moss growin' on this old rolling stone.
Wanna come with? Awesome. I'll be pickin' you up on a Harley soooo..travel light.