**The posts I write might contain affiliate links or be written in collaboration with businesses or brands. Please see my disclosure policy for more information.**
"So, how do you make money with your blog?"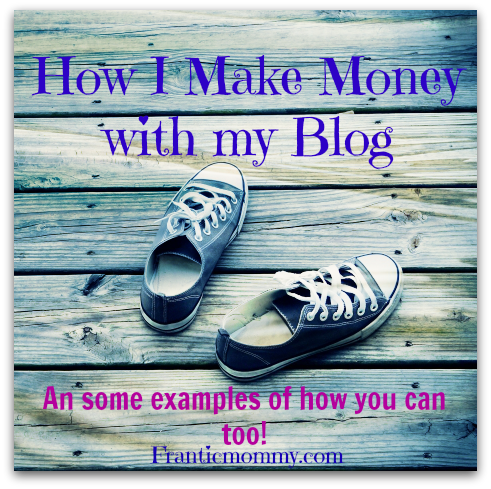 This question is quite possibly the #1 question I get asked on a regular basis. People who knew me as a blogger way before I became a freelance writer and virtual assistant still ask me, "So how's that little blog thing going?"
I think they truly expect me to say, "Oh, I gave that up years ago…." NOT.
I am happy to say my "little blog" is alive, well and growing like a weed nine years in. SO, how do I make money with my blog (two blogs actually)? Here's how:
Affiliate Advertising
Affiliate advertising utilizes tracking links on your blog and it works a lot like commissioned sales. If I review a book, I can include a link to the book on Amazon so the reader can click through and buy the book for their family if they so choose. Amazon in turn gives me a tiny little kick-back (basically a finder's fee) for directing a customer to their site. This affiliate income does not cost the buyer any extra; Amazon happily gives me my affiliate income out of their profit for helping them make a sale.
Amazon is one of many affiliates that I work with. Some of the best affiliates I have worked with are Leonie Dawson's Create Your Shining Biz & Life Workbooks,  any of super mommy Becky Mansfield's Products, OptinMonster, and I am very hopeful for a new affiliate that I just signed up for called Kiwi Crate.
FYI, all bloggers must disclose when they are including affiliate links with a short, "some of these links are affiliate links" before and after their blog post to be in compliance with the FTC.
Here's an example of a recent post with affiliate links in it.
Sidebar Advertising
This is something I really want to expand upon in 2016 since a site's sidebar is a great place for monetization. When you visit Franticmommy I have one main advertiser right now and it just so happens to be the largest hospital in my hometown. Essentia Health saw the benefit of getting their information in front of the 15K monthly views (mainly women and moms) for a reasonable rate (they are on my other site as well). Google Adsense is another option as well and anyone can sign up with Google Adsense. I will say though that this income stream has not been great for me and seems to work much better for other high-traffic blogs.
Sponsored Posts
I often get requests from companies to write sponsored posts for products or services, but I turn down most of them because they are shady or not a good fit for Franticmommy. I've had great luck with LinkVehicle when it comes to sponsored posts. The clients are screened for me and the blog posts are even pre-written for me (I just add my own intro and conclusion). They pay well and they pay FAST.
Here's an example of a recent Sponsored Post I did.
So that's pretty much the short list of some of the more common things I do to make moola with my blog. If you are toying with the idea of starting your own blog, check into Blogelina. She has great classes that are super affordable. Good luck!
FYI: The Create Your Shining Life Workbooks for 2016  are SOLD OUT….BUT, this amazing (and life altering) workbook and planner is still available in ebook form!
As many of you already know, this workbook and planner is playing a key role in my profitability and business growth plan for this year. I am already reaping the benefits in way that are truly blowing my mind and I HIGHLY recommend grabbing your own copy (they are cheap!). The beauty of an ebook is that you don't have to stalk the mailman waiting for it to arrive (that may, or may not, have occurred in my neighborhood ::cough::cough::) since it's instant access.
Click the image below to grab your copy ASAP or go HERE.