**The posts I write might contain affiliate links or be written in collaboration with businesses or brands. Please see my disclosure policy for more information.**
By Bonnie Brost, a licensed and registered dietitian at Essentia Health.
If you're looking for a new vegetable, give cabbage's crazy cousin a try. They may be odd looking, but they are packed full of flavor and nutrition. Here's a little background on this veg plus some kohlrabi recipes to try.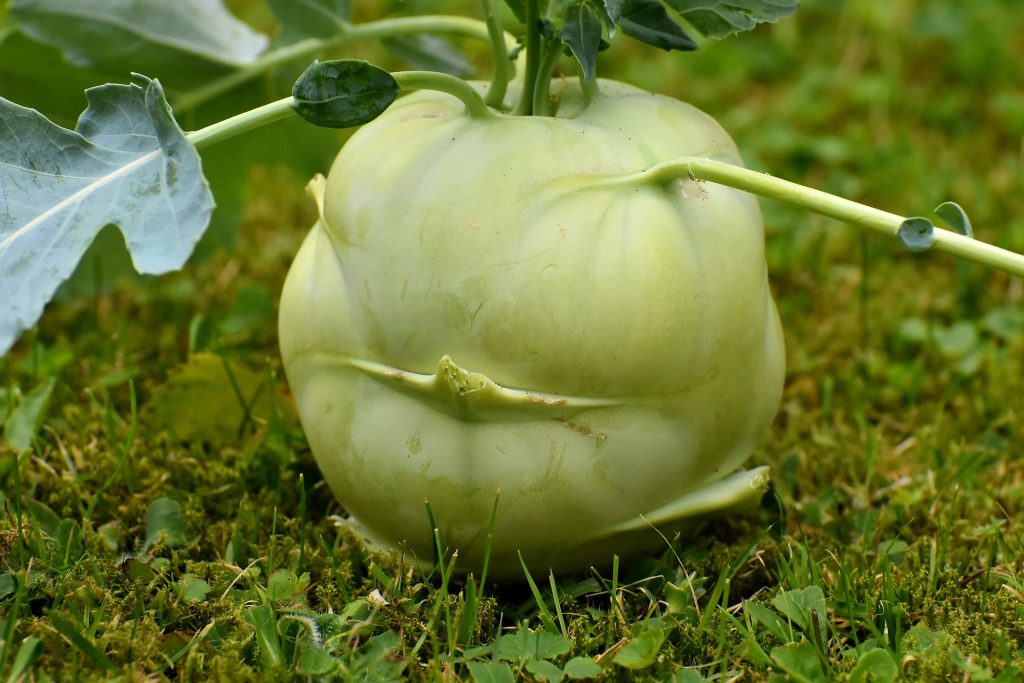 What is Kohlrabi exactly?
Consider kohlrabi, an uncommon vegetable that's mainly eaten in central and eastern Europe. The plants thrive in a cool climate like ours. You also can find kohlrabi in grocery store produce sections and farmers' markets.
Kohlrabi, a member of the cabbage family, is descended from both the wild cabbage and the wild turnip. Its name is German for "cabbage turnip."
Kohlrabi is described as a "super stem." From the seed, greens appear and form a bulb at the bottom of the stem, above the ground. Both the bulb and the stems are edible. Almost the whole plant can be eaten. Only the root needs to be cut off.
The bulb's flavor is similar to broccoli stems but sweeter and with a turnip's texture. Leaves can be added to salads or cooked like spinach, kale or collard greens.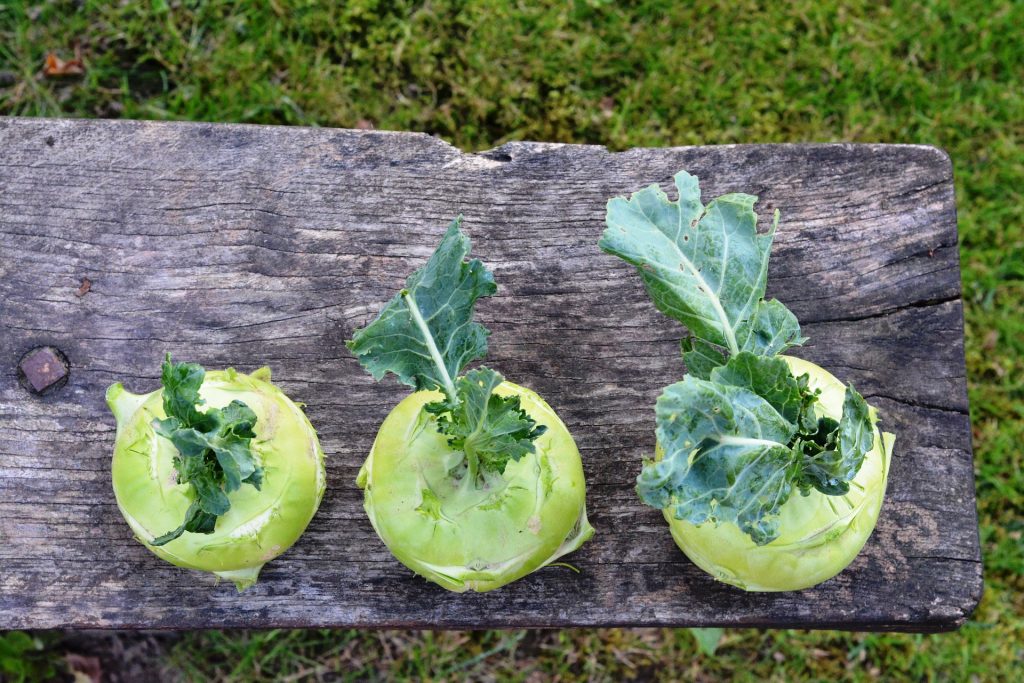 Just like other cruciferous vegetables such as broccoli and cabbage, kohlrabi is packed with nutrition, low in calories and high in antioxidants. One cup of raw kohlrabi has more potassium than a banana, more than 500 milligrams. It's also high in vitamin C, providing more than 100 percent of our daily needs in a single cup. Kohlrabi is a great source of fiber with six grams in a cup. All of this for only 45 calories and 10 grams of carbohydrate.
Pick kohlrabi bulbs that are plum-size or no more than two to three inches across. Bigger bulbs can become woody and larger bulbs are best peeled. The bulb can be eaten raw or cooked. Try eating it like an apple. The crisp flesh can be served raw in salads or made into a slaw or relish. You can also cube, slice or julienne the bulb and then steam or bake until tender. In many central European countries, cooks hollow out the vegetable and stuff it with meat or other vegetables before baking or steaming.
Kohlrabi varieties are distinguished by color. They can be white, green or purple. They are easy to grow and fast to mature, with 50-65 days to harvest. The plant thrives in cool temperatures, which allows a crop in spring and fall. Harvesting the bulbs when they are small is important to get the best quality and flavor. A little frost in the fall enhances the bulb's flavor, making it sweeter.
With kohlrabi in the spotlight, it's a great time to try it in our gardens and on our tables. Give Kohlrabi Slaw or Kohlrabi Fries a try.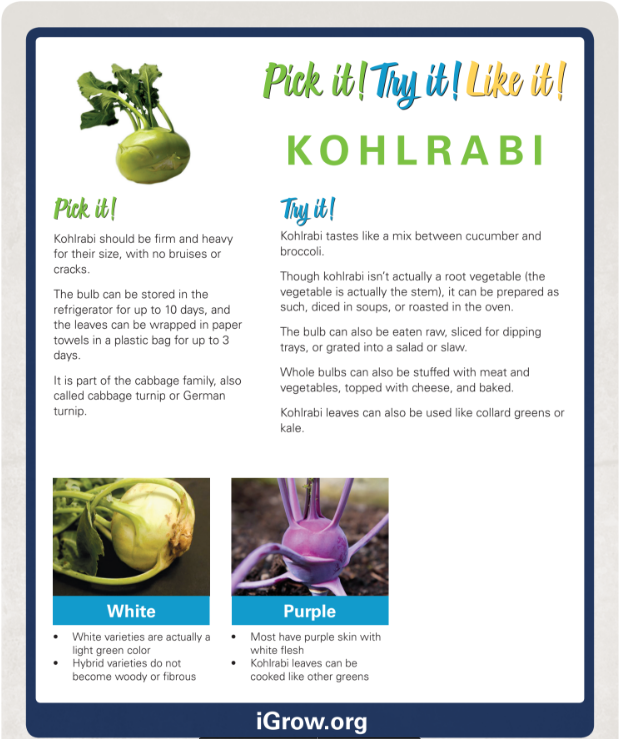 kohlrabi recipes
Kohlrabi Spicy Fries
2 kohlrabi bulbs, washed, peeled
1½ teaspoons olive oil
½ teaspoon ground cumin
½ teaspoon chili powder
Preheat oven to 425 degrees F. Cut the kohlrabi into thin strips. In a bowl, combine the olive oil, cumin and chili powder. Add kohlrabi strips and toss to coat them evenly. Spread the kohlrabi in a single layer on a baking sheet. Bake for 25 minutes, turning once. They will get dark on the outside edges.
Nutrition Facts
Servings: 2; serving size: 1 cup; calories, 75; total fat, 4 grams; saturated fat, 1 gram; cholesterol, 0 milligrams; sodium, 35 milligrams; potassium, 590 milligrams; carbohydrate, 10 milligrams; fiber, 6 grams; protein, 3 grams.
Kohlrabi Slaw
4 cups grated kohlrabi (3-4 bulbs)
1 cup shredded carrots
¾ cup finely chopped celery
3 tablespoons white vinegar
1 tablespoon sugar
1 tablespoon extra-virgin olive oil
1/3 cup olive oil mayonnaise
1 teaspoon celery seed
Chopped kohlrabi leaves for garnish
Prepare vegetables, peeling kohlrabi before grating it they are larger than 3 inches across. Combine all vegetables in a large bowl. In a separate small bowl, combine vinegar, sugar, olive oil, mayonnaise and celery seed. Mix well with a wire whip. Add dressing to vegetables and mix well. Garnish with chopped leaves.
Nutrition Facts
Servings: 8; serving size, ½ cup; calories, 60; total fat, 4 grams; saturated fat, 0 grams; cholesterol, 0 milligrams; sodium, 90 milligrams; potassium, 310 milligrams; carbohydrates, 7 grams; fiber, 3 grams; protein, 1 gram.
Bonnie Brost is a licensed and registered dietitian at Essentia Health.
Essentia Health is guided by the values of quality, hospitality, respect, justice, stewardship, and teamwork. From emergency care to convenient care, family care to speciality practice, Essentia Health delivers on its promise to be "Here With You" in the Brainerd Lakes Area.  Learn more at www.essentiahealth.org.