**The posts I write might contain affiliate links or be written in collaboration with businesses or brands. Please see my disclosure policy for more information.**
[SPECIAL 90 min] Virtual Assistant Social Media Training- LIVE ONLY Webinar on Thursday August 4th!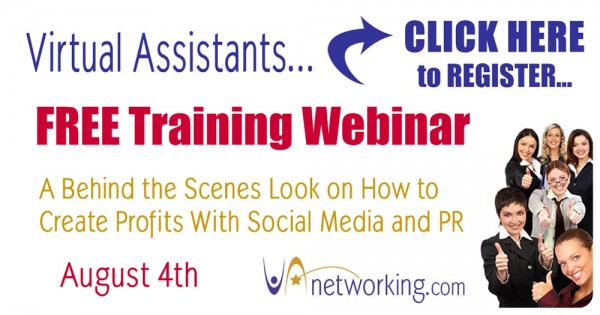 Join the gurus at VANetworking.com for their free 90 minute Virtual Assistant Social Media Training webinar to educate Virtual Assistants worldwide!
All this month fellow virtual assistant Thaleia Maher from Something2Offer and I have joined forces to co-create a series this month called What it Takes to Be a Virtual Assistant.She and I have had so many valuable discussions about being virtual assistants and working from home thtat we decided to get serious about this topic and create something that will really help readers understand what a VA is, and move forward in their quest to become one.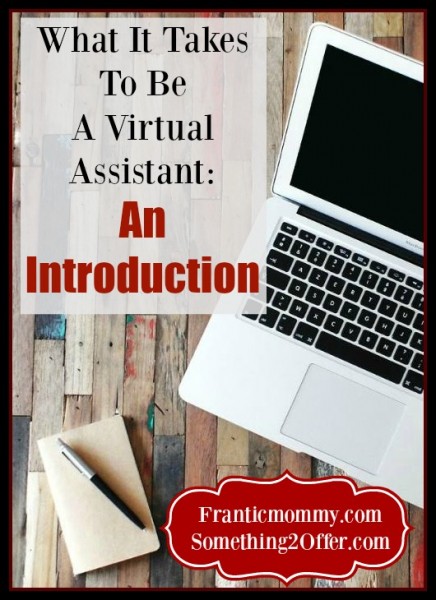 These are just a few things we will be covering on Franticmommy, and Thaleia's Something2Offer blog:
Since this free 90 training is in alignment with all that we hope to share this month, we thought we would shout it from the rooftops!
NOTE: This is a special LIVE training webinar that will last a bit longer than VANetworking's normal 60 minute ones so please schedule enough time in for this training into your calendars. This will be a LIVE WEBINAR ONLY with only 100 seats available so do arrive early to grab a seat. The recording video replay will only be available to our http://VAinsiders.com Club members. <<< Perks of being a VAinsider can be found HERE ;)
Speaker: Christina Daves, Best Selling Author and DIY-PR Maven and Karen Yankovich, Social Media Evangelist are getting high paying clients from social media and generating over 7 figures in sales from FREE publicity. AND…I asked this money making DUO to come to our network and show you firsthand how they work together combining social media and publicity skills to generate buzz for their clients that allows them to get new customers and charge more money because of their mass exposure through social and traditional media. COOL HUH???
What is this webinar all about?
TOPIC: A Behind the Scenes Look on How to Create Profits With Social Media and PR
** How to work with your clients to get them massive exposure for their business by mastering getting on television, radio, in magazine and newspapers, for FR-EE.
** How to turn their social media fans friends and followers into high-paying customers
** The one thing you need to have in your social media bag of tricks for maximum profitability
** How to give your clients a way to gain exposure to get more clients and customers
** How to use social media to connect and build relationships with the media to amplify your efforts.
What would you do if you HAD to get massive exposure for your client TODAY? That's what this webinar is about – getting into massive action, giving you specific strategies and tactics to make it happen, providing you with EXACTLY how-to, with a BIG sense of urgency, and a laser-like focus on results, results, results.
Here's details for this webinar training and please arrive early to grab one of the 100 seats we have available. You can download their workbook handout to take notes on here before the event starts.
REGISTER HERE for Room Link: http://vanetworking.com/webinars
(One time registration for all our fr-eebie webinars)
DATE: Thursday, August 4th, 2016
TIME: 3PM PDT (Vancouver, BC, Canada – UTC/GMT -7 hours)
Download handout for notes: http://getseenbeheardtv.com/Vacert-worksheet
SPEAKER BIOs: 
Christina is a best-selling author on the topic, has personally appeared in over 250 media outlets and has generated well over 7 figures in sales from free publicity.
Karen has a combined social media following of over 100,000 and is a social media blogger for Huffington Post, Social Media Today, Social Media Examiner. She uses social media to generate sales from $25 to $20,000 clients.
Looking forward to seeing you at the webinar on Thursday!