**The posts I write might contain affiliate links or be written in collaboration with businesses or brands. Please see my disclosure policy for more information.**
What it Takes to Be a Virtual Assistant: The Tools and Skills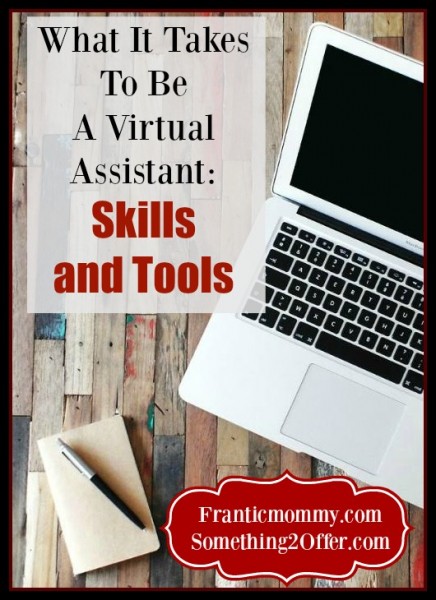 Thaleia Maher from Something2Offer and I have joined forces to co-create a series this month called What it Takes to Be a Virtual Assistant. She and I have had so many valuable discussions about being virtual assistants and working from home that we decided to get serious about this topic and create something that will really help readers understand what a VA is, and move forward in their quest to become one.
These are just a few things we will be covering on Franticmommy, and Thaleia's Something2Offer blog:
The World Wide Web can be like the Wild Wild West sometimes. So much to learn, so little time to learn it.
But if you are thinking about becoming a VA I can tell you from experience that there are certain skills you nee, and certain knowledge of online products that you should have. I was blessed with people/clients who were more than willing to teach me, but as I look back to when I started my VA biz, I am embarrassed how darn green I actually was!
SO once again I have teamed up with Thaleia Maher from Something2Offer  to continue our What it Takes to be a Virtual Assistant Series and bring you a list of the platforms, tools, and programs for VA's and work-at-home professionals. We feel it would really be in your best interest to have at least some working knowledge of the items on my list, and hers as well.  The rule of thumb is, the more skills you have as a VA, the more valuable you are to clients.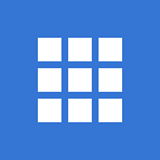 BlueHost Website Hosting: All businesses need a "homebase" or a website where clients can learn more about you and contact you there for services as well. BlueHost Website hosting is also where you buy domain names, ideal for any type of site. BlueHost also makes it sure seamless and easy to start a WP.org blog. You can buy your domain name, buy hosting, start your WordPress blog and even have a matching email address in place in less than an hour.  A very reliable service, the BlueHost customer service ninjas have saved my bacon on many occasion. I've used both GoDaddy and HostGator and I much prefer BlueHost.
P.S The customer support is amaze-balls and they've helped me out of a jam on more than one occasion.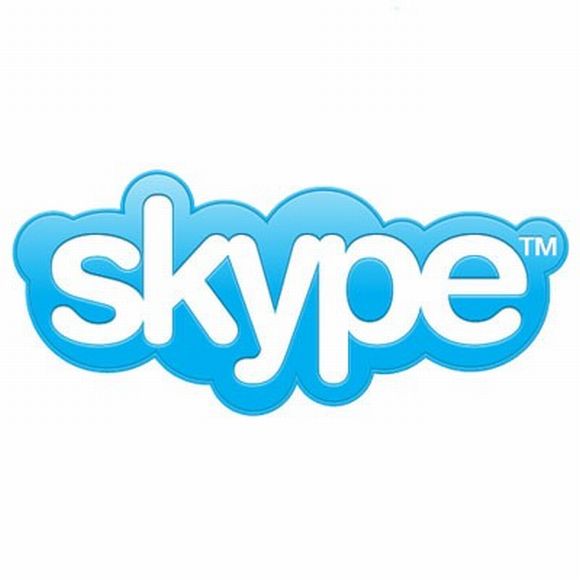 As a VA, I swear Skype is my lifeline/second home. I love the fact that I can chat and see people in real time like they are sitting right in my office..even when we are states apart. You will find out that you will be on the phone a lot in the early days trying to make deals with just about everyone in the universe. Balance it out so you don't actually have to pay more for your phone by using a service like skype as often you can…especially if its for regular calls with a client.
When juggling multiple social media accounts (yours, or for clients) Hootsuite can be a time and life saver. Design as a dashboard,  Hootsuite allows users to pull in multiple social media accounts and schedule Tweets and updates into the future. The upgraded version (the paid version) allows you to import your list from Twitter and create "streams" on your dashboard for specific hashtag searches or keywords. It really is like mission control.
DropBox is a great way to pass files and info between clients and workers. All files stay "in the cloud" so if you (or their) computer bombs out, no worries-everything is safe. I like that a client can load a file, I can go in an edit or tweak right within DB. It updates as soon as I hit "save" and the client can see my changes or work instantly. Starts with 2GB for free, and you can easily be upgraded. It's a great service for sharing large files as well.
Basecamp is just as it sounds, a central location for Virtual Assistant teams and client to meet, convene, share files, and share information or conversations. With an entire project on one page, nothing gets lost and your team always knows where things are. Messages or issues can be discussed within Basecamp, or if you work with others on a client project, the message can be made private as well. Projects, deadlines, and milestones can be seen by everyone on the internal calendar. "WriteBoards" are like virtual whiteboard to write an idea, important links or passwords for easy access. Basecamp has a free trial but runs about $20/month. Typically your clients will be the ones paying for and using Basecamp. But it's a good idea to read up on it and at least some idea how it works.
Have you seen that creepy commercial where random people that keep ominously saying "you're about to lose everything.." Carbonite is a back-up safe net that automatically backs up your files and precious information and stores it SAFE "in the cloud." This means if your computer craps out, your photos, files, and client information remain safe and retrievable. Carbonite is super reasonable ($59/year) and to me the peace-of-mind is priceless. Carbonite does have a free trial, or right now they have a special deal that new sign-ups get a $20 Amazon Gift Card. You can find that offer HERE.
aWeber:
When it comes to Autoresponders, they are a dime a dozen and I've tried several of them, but my absolute, hands-down favorite is AWeber. The client is Aweber because they score on price, usability, customization and amazing customer service. Set the dates for client emails and newsletters and walk away. AWeber has 150 easily customizable templates so that you don't need to have a Creative Design Degree to create awesome looking email newsletters. And you can produce professional-looking web forms in three simple steps. YUP, I said Aweber is also a favorite for creating opt-in boxes for clients wanting to capture names and emails to grow their list. Again, this program is usually paid for by the client, but having knowledge of Aweber benefits and basics functions is a good thing to know.
I love to create "pics" with the Monkey. We are living in such an image-based world right now. Images RULE on social media platforms including blogs. Statistics show that a Facebook update with a striking image or infographic is 84% more likely to get engagement than one without. There are many, many programs to help you create striking images or fun (shareable) images for blogs and websites, but my choice is PicMonkey. Formerly known as Picnik, Picmonkey is easier to navigate than PhotoShop. PM boasts fun overlays, slick fonts, and ease of sharing your images once complete. PM is free, but only with a limited number of options. The Royale version opens up a treasure trove of options for fonts, overlays, and borders and is around $10 a month. Created striking, branded images for your clients is a great skill to have.
Looovvvee my Freshbooks. If you need a good way to track your clients hours and create invoices for payment, I personally prefer Freshbooks because it is easy to understand and can connect to your PayPal account as well. I have the bookkeeping skills of a rock, but Freshbooks makes it easy for even a knucklehead like me. The feature clients will appreciate on Freshbooks is the time tracker. When you start a project you start the timer. Once time is stopped it is automatically tallied for them within FB making billing time accurate and seamless. Freshbooks is free if you have 3 clients or less and after that is $19.99 per month.
Optin Monster:  A WordPress plugin, OptinMonster, the most powerful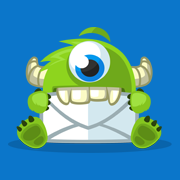 customer acquisition and lead-generation solution for businesses. OptinMonster allows you to convert visitors into subscribers and customers. It enables you to create professionally designed optin forms without writing a single line of code in 60 seconds flat. Build, publish, and test great looking optin forms that are guaranteed to maximize your subscriber growth and lead generation efforts.OptinMonster integrates with MailChimp, Aweber, ConstantContact, MadMimi and more.
Basically, it is a super fabby way to create eye-catching pop-ups on your site that don't annoy but do convert. LOVE this tool! Learn the scoop on it here.
Later: This third party app for scheduling things in advance on Instagram is my new BFF. Later is excellent for social media content
management, especially for those who manage multiple accounts. It is visually appealing and its basic tools are easy to use for any ability. Automatic Instagram scheduling for photos and videos is so handy. The free version limits the number of Instagram images you can schedule in advance so I upgraded to Plus Monthly and the $9/month is worth every penny.
Tailwind:
 The penny-pincher in me resisted investing in Tailwind for over a year, but when it comes down to it, the time I save is worth the $120. PLUS, after struggling with Google Analytics for years I finally knuckled down and started committing myself to learn and using GA. Much to my surprise, Pinterest was the source of almost 50%. Wwhhhaatt??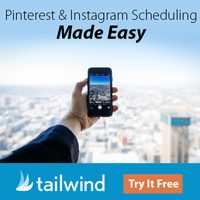 And I've been totally half-assed about my Pinterest pinning in the past. Imagine what it will be like when I use Tailwind and be intentional about my pins?
**Some of these links are affiliate links
Be sure and check out Thaleia's list HERE. She's reviewing and revealing interesting programs like Buffer and Ipiccy, and also some good social media info too. Check it out!
BONUSES:
Curious about the origin of Virtual Assisting? Check out this great article from VirtualAssistants.com
Tons of "getting started" info from what kind of gear will you need to where are the best places to find clients. Did I mention it was free?
More Resources for your Side Hustle Journey
MOM BOSSING
MOM BOSSING: The Freedom to Create the Business You Love is a book filled with personal stories, resources, support, wisdom, and encouragement from a solopreneur who has been in the trenches as a mom boss. This step-by-step guide shares the truth, fears, tears, and cheers of being a mom who is building a business empire on her own terms. If you are looking for a new career for the "second half of life," venturing into direct sales, rocking a home business, or dreaming of leaving a dead-end job, this book provides the building blocks needed to move forward with a healthy dose of humor authenticity. In many ways, this book could also sport the tagline of Building a LIFE on Your Own Terms.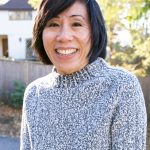 I was lucky to have Becky Flansburg join us at Multicultural Children's Book Day when we first began our nonprofit. She was the "head elf" which meant she did everything from project management to help us get sponsorships. In the early years, we weren't able to keep her busy for more than a few months a year and even that was very part-time. Becky's contribution to the team helped us grow our nonprofit, and, in turn, we were able to keep her busier. Now, as a "mom boss," Becky is sharing her journey and her wisdom for moms who want to try solopreneurship.  It's particularly helpful for anyone who wants to become a VA (Virtual Assistant).~author and mompreneur, Mia Wenjen
Also available on IndieBound.com.
Have you ever dreamed of working from home on your own terms instead of being confined to a corporate cubicle or windowless office? Have you ever dreamed of earning a steady and honest income while still having plenty of time for friends and family?
Lucky for you, it is all very possible. It's a life that I have successfully been living for over 9 years…and I can't imagine supporting my family (and following my dreams!) any other way.
Within the pages of this robust 90-page e-book and resource guide is the motherlode of excellent information about working from home (on your own terms) all rolled into a handy read-at-your-own pace guidebook.
Whether you are looking to pursue a career as a freelance writer, virtual assistant, graphic designer (and more) this Resource Guide will provide the insight, tools, guides, advice, and strategies that can apply to any freelance business. If you want the very basics of getting started without the benefit of support and coaching, this eBook is for you.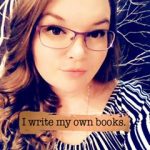 For anyone looking to start their freelance career, or up their game, this book is the perfect place to start. Jam-packed with actionable items and details about even handling unruly clients, well-meaning visitors, and kids while working from home – this book has it all! Highly recommended!~author and mompreneur, Carissa Andrews
For those who are contemplating the freelance lifestyle but need a guidebook with baby steps, this is your manifesto! Becky Flansburg shares her tips for balancing a freelance career with a family including the nuts and bolts such as the online tools she uses for networking and running her business. Becky is a gentle and realistic cheerleader for anyone who wants to work at home as a solopreneur.~Mia Wenjen
FREElance FREEdom is Available on Kindle
Also available on IndieBound.com.
Available in Paperback on Amazon: mybook.to/FREElanceFREEdompprbk