**The posts I write might contain affiliate links or be written in collaboration with businesses or brands. Please see my disclosure policy for more information.**
I am hooked on adult coloring books.
It's downright therapeutic.
I actually was describing it to a friend the other day and actually used the sentence, "Yeah, it's my "thing."….
When you first think of coloring, you might think of children excitedly coloring in books with their favorite cartoon characters. But there's a trend that involves the Bigger Humans getting involved in this fun activity. Here is a list of some of the more popular Adult Coloring Books and Supplies to get you started. Who knew adult coloring books could be so popular?  The lady at the local bookstore said they fly off her shelves as fast as she orders them.
Even CNN news reported on the Adult Coloring Book Craze .
When you first think of coloring, you might think of children excitedly coloring in books with their favorite cartoon characters. But there's a growing trend that involves the Bigger Humans to get involved in this fun activity as well…especially moms.
Obviously, I am slowly catching on…but here's my little beauty.
So yes, coloring is now "my thing" and I am lovin' every second of it. The only down-side is that now my 12-year-old keeps swiping my coloring books and coloring pages! "Get your own coloring book!" I tell her. "But mommy….yours is so much prettier…."
*sigh*
Did I mention she is FAR better than me at "staying inside the lines?" That being said, there are a few things I recommend when taking the leap of faith in buying your own coloring book for adults.
Buy nice markers. Invest in some good-quality art markers with a fine tip. Sharpies are OK, but they tend to bleed through the paper. I totally, hands down, recommend Zig Memory System Scroll and Brush Dual-Tip Markers. I found one of these at a garage sale this summer and used it by accident on my adult coloring pages/ I was HOOKED instantly by the paintbrush-like tip and the funky striping tip on the other end. They are a little more expensive but totally worth it if you like markers to color with.
I swear I lay in bed at night and fantasize about this little beauty (because I have no life). If the Coloring Fairies granted my wish, and this appeared on my doorstep, I would for sure have a childish accident that would require a change of clothes…. 😉
I also have plenty of friends who prefer coloring pencils to color with and I use those on occasion too. Again, I think you should invest in some quality ones like these Prismacolor Premiers:
Use it as a "Me Time" Tool: Color often. Color at the end of the day. Color as your "me time." I also recommend coloring outside in nature as much as possible. There is something insanely relaxing about coloring happily with the breeze in your hair and the birds chirping in the trees. I scored a lapdesk at a garage sale and it's perfect for coloring outside.
Carry one with you. For all of those time when you are cooling your jets in the doctor's office waiting room or in the line at school pick-up, bring your book along for a little R&R and coloring time.
Don't spend too much $$ on one. I've seen some crazy-priced adult coloring books and I probably paid more for mine than I should have…BUT….there are cheaper alternatives and here's a few that I either own or have caught my eye:

So are you ready for an easy-peasey hobby that is fun and a great tool for relaxation?
P.S. Are you groovin' on this adult coloring thang? Curious how you can turn your coloring and design skillz into cash? Check out these past posts:
Clever ways to Cash in on Adult Coloring
A Promising Side Hustle | How to Cash in on the Adult Coloring Craze
4 Unique Ways to Sell Your Adult Coloring Sheets
5 Ways to Create Adult Coloring Pages (for fun or profit!)
**to examine any of these items closer, click the image.
**Some of these links are affiliate links (which means maybe…just maybe I can buy the fancy creamer for my coffee if you click a link and purchase a book via Amazon).
What if you just want to dip your toe into the adult coloring market and you're not looking to create your own designs just yet? Here are a few solutions that might be just what you're looking for – private label rights (PLR) coloring pages.
With PLR pages, you can add your own branding to the pages and sell them as if you created the pages yourself. This lets you explore the adult coloring niche without investing too much time creating pages. You can find PLR coloring pages available from sites like WhiteLabelPerks.com.
Inspirational Adult Coloring Page Bundle #1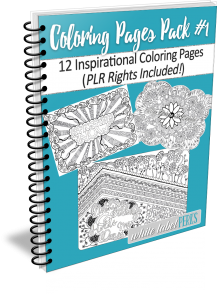 Love Adult Coloring Page Bundle #2

I love the idea of using these bundle packs as gifts, to rebrand and sell as my own, or just hoard them all for ME. (That sounded so much better in my head).
If you are looking for a side hustle that taps in on something hugely popular, adult coloring pages is a great way to get started.
Don't be discouraged if your first few attempts at creating coloring pages aren't that great. Adult coloring designs may look simple, but creating them takes a lot of work and dedication. If this is something that you'd like to pursue, then be patient with yourself as you learn.
SO, do you want to learn how to

create your own adult coloring book to sell?
Or find ways to enrich your training and coaching materials with coloring pages?  Discover how to cash in on the adult coloring craze when you download your free workbook.
This short workbook will give you tips and advice on how to create your own coloring sheets. I even included information on how to sell your sheets for extra income. This workbook includes creation prompts, free coloring pages and info on how to sell your own coloring creations! : )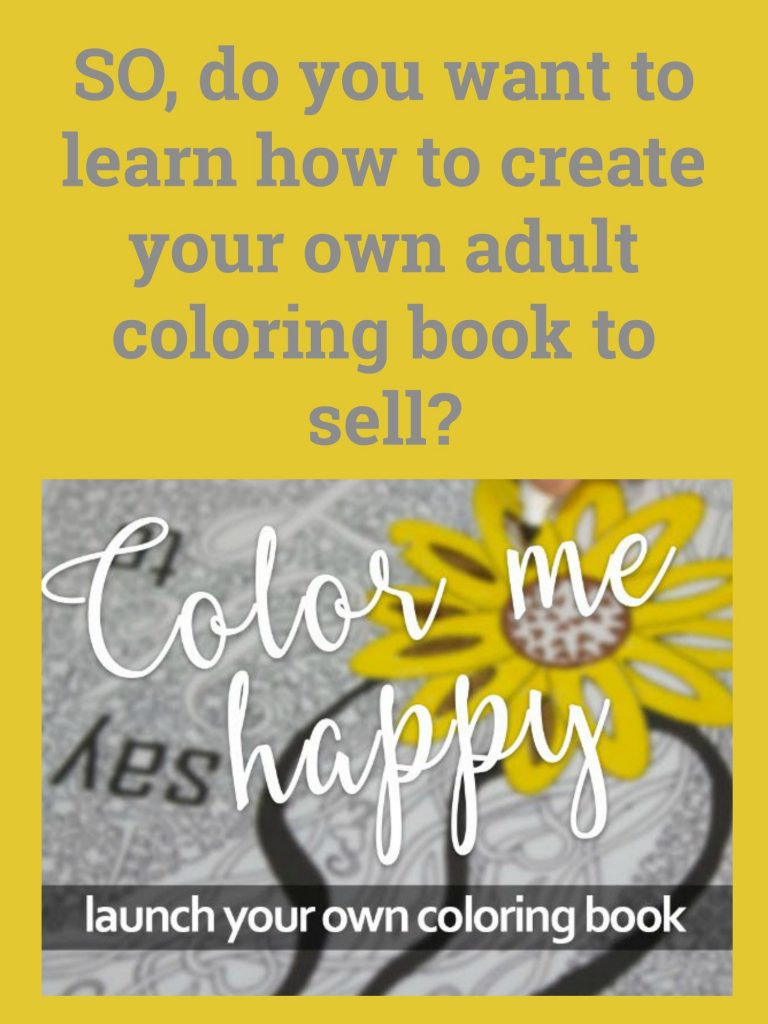 CLICK HERE, add your name and email and get Instant Access to the FREE Cashing in on the Adult Coloring Book Craze Workbook!!

---
---
Would you like a sneak-peek at my popular book FREElance FREEdom: Creating the Work-From-Home Life You Crave?
Go HERE to grab your -no-cost FREElance FREEdom 3 Chapter Teaser of this book and see why people are wanting to know MORE.
If you are one of the many people who are growing tired of the rigidity of the "9-to-5 grind" and crave an alternative way to earn a steady income on their own terms, this book is for you. Within the pages of this book, readers will find the motherlode of excellent information about working from home, navigating the freelance lifestyle, and creating the business and career they love.
Visit Book Funnel HERE to get a taste of the book that is crammed full of dream propelling goodness!
Rebecca "Becky" Flansburg is an author, freelance writer, and blogger from Minnesota. She is mom to two humans and critter mom to way too many pets. She is the author of two non-fiction books on working from home, FREElance FREEdom: Creating the Work-From-Home Life You Crave and MOM BOSSING: The Freedom to Create the Business You Love (both in physical and ebook form) and her children's picture book, Sissy Goes Tiny, was released July 19, 2019. She is a member of the Lakes Area Writers Alliance and can also be found on BeckyFlansburg.com.
Go HERE to grab your -no-cost, no-obligation (I don't even make you sign up on a list!) sample of my book FREElance FREEdom.